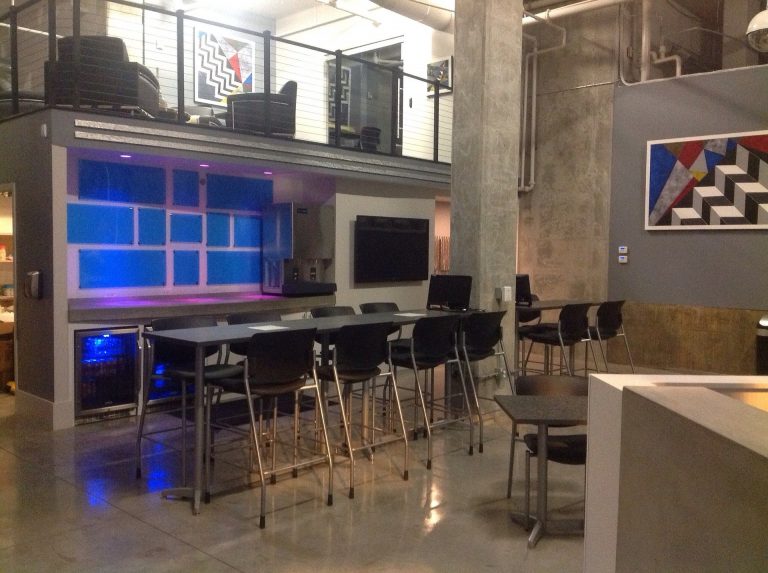 When coworking companies came onto the scene, they quickly became a tool for commercial real estate brokers to help young and small business owners find a temporary space. However, this symbiotic relationship may be in jeopardy with the announcement of WeWork's tenant representation services as brokers will be far less likely to bring their clients to a competitor. The coworking business' move to diversify their service offerings may cause harm to their referral partners' business and therefore, maybe also their own.
It is a common practice for tenant representative brokers to bring small business owners to coworking spaces while these entrepreneurs grow their company, as a coworking lease is a great short-term solution. Once the business grows to a certain level, the owner will want to find a permanent spot with their own branding and more privacy. However, instead of contacting the broker who brought them to WeWork, this entrepreneur may now decide to use a WeWork tenant representative.
Because of this conflict of interest, brokers will no longer be inclined to bring tenants to WeWork, as they will be consistently working against their industry referral partners to grab the business of these growing entrepreneurs. Unfortunately for WeWork, this could also contribute to a loss in business — one that would only add to the $900 million loss already reported in 2017.
Recently, Moody's dropped its rating of WeWork from the lowest possible credit rating to six grades below its junk credit rating. The reason for its harsh assessment is due to WeWork's $702 million of unsecured debt and negative free-cash flow, despite its growth from raising capital. According to Tenant Advisory Group founder and CEO Bill Himmelstein, the strategy to open up a new line of service is likely in response to its disadvantageous earnings and credit rating that hurt the company's chance at securing a new round of funding.
WeWork's idea for a new service line may make sense as a short-term strategy, but it overlooks long-term consequences that could have a catastrophic impact.
All eyes are on vacancies as we head into the new year, as these rates are predicted to continue their increase through 2018. There are a number of factors contributing to this trend, including the emergence of several new properties downtown as well as a few new neighborhoods being developed. Here is a look at some of the trendy topics to pay attention to in the next year.
Rising Interest Rates
The commercial real estate industry will continue to experience an uptick in interest rates, which will make property purchases more expensive. As a result of the higher interest rates, combined with a high volume of buildings trading hands in 2016 & 2017, we can expect to see a decrease of building investment sales and purchases. The rush of corporations moving to downtown Chicago has driven vacancy rates down in recent years. However, we are starting to see the trend towards increased vacancy due to several large new developments coming online.
Trending Areas
Chicago's reputation as a place to relocate to is growing with the impressive list of large corporations that have already moved downtown and the many more that are in the process of relocating to the city. We are expecting River North and River West to remain in the spotlight. Since there are so many big name businesses located there, many companies want to be in the same area, despite the inflated prices in the hot areas. In 2018, more and more businesses will turn their attention to the budding neighborhoods along the Chicago River, such as Goose Island and the Clybourn Corridor, thanks to several large developments planned by R2 Companies, Riverside Investment & Development and Sterling Bay.
Office Trends
The famously popular trend of an open office with bench-style seating will continue to grow in 2018. However, companies already using this layout have begun to realize its shortcomings. While this office design does increase collaboration, it fails to offer workers a space to concentrate or enjoy privacy which lowers productivity and workplace satisfaction. Employees need offices to concentrate and breakout rooms for privacy to focus on their work.
More and more companies are offering an option to work remotely or with flex hours, as this lowers the number of staff in the office. When fewer employees work in a physical office, the business can reduce square footage and positively impact their bottom line. However, similar to the open-office design, employers are discovering that this rising trend of remote workers and flex hours reduces productivity, lowers collaboration and erodes company culture. Eventually, corporations are reaching the conclusion that having their employees present in a well-designed office space is the most ideal option.
There are a few predictions we can expect to see in 2018: as interest rates rise, the number of  investment purchases will fall; a more tenant-friendly market will emerge due to rising vacancy rates; and office trends will continue to change and adapt as companies find the formula with the best results. At a glance, 2018 has a healthy outlook for Chicago's commercial real estate market, and as always, it should have its fair share of surprises.
There are never enough hours in the day when you're a small business owner. Try adding relocating your business to your list, and you'll really have your head spinning. While important, finding a new office is a daunting task and can soak up drastic amounts of time. Thankfully, there are Chicago Commercial Real Estate professionals who want to help you.
Find a Space
With a sea of options available, how do you narrow it down to the handful of spaces that are perfect for your business? A large part of a broker's job is to understand the market and what's available for potential tenants. A commercial real estate professional will be able to identify what your business needs, and find the right space much more efficiently than you could, saving you time and frustration.
Schedule Walkthroughs and Meetings
Scheduling meetings with landlords and space walkthroughs take much more time than you'd think, taking away from the day-to-day of running your business. Commercial brokers will simplify the process by prescreening the space to ensure it's worth your time to visit. From there, they will work with your schedule to find the best time to tour the space. The added benefit of having a broker on your side during a meeting is their knowledge of the market and fair lease terms, which can provide additional negotiating leverage
Negotiation and Paperwork
Negotiating a commercial real estate lease requires skill and knowledge of what can and can't be conceded. While an attorney's role in the lease negotiation process serves to minimize risk, a commercial broker's role is to minimize cost. Only a season professional, who is keenly aware of the market, will know what to ask for with regard to items such as tenant improvement dollars and rent abatement. Your broker's intimate knowledge of commercial leases will help ensure you are getting the best possible terms.
Chicago real estate is all about local market knowledge. Working with a professional who is an expert in their discipline can save you an immense amount of time, money and frustration.
Glamorous downtown Chicago is bustling with the impressive influx of top corporations moving into downtown. However, apartment buildings are beginning to feel the effects of over-saturation and landlords are having a tough time renting their downtown spaces. With more buildings coming online in 2017, the increase in supply should cause rents to deflate as vacancy rates rise.
The Dance of Supply and Demand
There is an inverse correlation between rent prices and vacancy rates — as vacancy rates increase, rents decrease. This relationship remains consistent as a higher supply means more options for potential renters. When the market is saturated with choices, then landlords cannot leverage a limited supply for higher rents. The simple economics of supply and demand will continuously cause a rise and fall of rent as new apartment buildings are brought online.
New Apartment Buildings in 2017
Rent in Logan Square is jumping up to nearly $2.50 per square foot. Unfortunately for renters, that is low compared to some downtown apartments that reach $3.03 per square foot. Thankfully, capitalism is working for the renter, and developers will complete roughly 12,600 apartments spanning across 2016 and through 2018, according to Crain's Chicago. The new rush of available spaces coming online will pump the brakes on the rapidly inflating rent prices. The grip landlords currently have over rent prices may soon loosen in order to fill units when the inevitable flood of open spaces hits the market in the near future.
Enter the Tenant-Friendly Era
As time marches forward, so do rent prices. For nearly seven years straight tenants have experienced rent hikes. New corporations moving to Chicago means many of their employees will relocate closer to their jobs, further increasing competition for open spots. However, the timing works out well with the large amount of apartments opening up over the next few years, which means rent prices are unlikely to see a significant rise for a while.
Chicago's real estate market is moving along at a healthy rate. While prices are inflating faster than renters would like, new apartment buildings are coming to the rescue and will relieve the rapidly rising rent. With the market potentially flipping to a tenant-friendly one, the upcoming years will be an excellent time to seek a place to live in historic downtown Chicago.
Regardless of whether rent continues to rise, owning for long term is always a better financial option. If you or someone you know are looking to sell or purchase a residence we encourage you to speak with Lisa Kalous.
In a time where the commercial real estate industry is as fast-paced and as dynamic as ever, having helpful insight and advice about what's important and what's working (or not) can help anyone learn as they go. We've launched an all-new series with MeetAdvisors.com – "Commercial Real Estate: What I Know Now and Wish I Knew Then."
This week Bill spoke with Darryl Cheeks, CEO of Black Rhino Financial Group. Black Rhino Financial Group is a finance company with the mission to provide professional excellence in executive, financial and operational support for all of their clients. They are able to achieve this goal through their holistic approach, experienced team, and utmost dedication to give their clients a unique, one of a kind plan. They offer services ranging from personal finance planning, budgeting, taxes, and retirement planning. Darryl explains what the most important parts of a lease document are, to make sure the lease and agreement terms are right.
Bill is leading this monthly series and explores the dos and don'ts for business owners when seeking commercial real estate. Coming from those who have been there and done that, this show seeks to inform those who will be seeking space for the first time or even those who already have gone through the process but could benefit from someone else' successes and failures.
We're aiming to bring you two new videos each month and will be sharing each episode with you as they appear. For more information and to see other great content, visit www.MeetAdvisors.com.
Want more tips and tricks? Check out episode 5 here.