Executive Networking With Tenant Advisory Group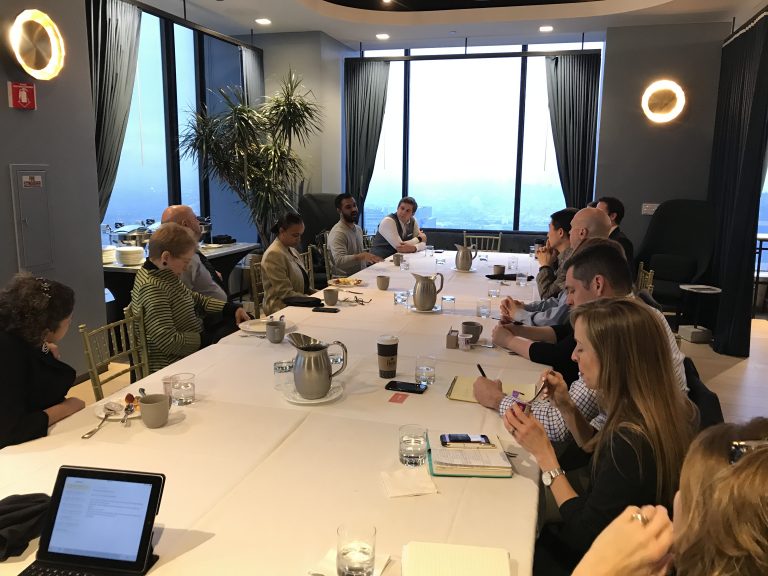 Every month, Tenant Advisory Group hosts an Executives Bruncheon to provide an opportunity for Chicago business leaders to build new, meaningful connections and discuss topics relevant to running a business.
During March's Executives Bruncheon, attendees were prompted with the question, "What do you to do build stronger relationships?" Here are a few of the lessons shared in response:
Atish Doshi- I send articles that help me connect with people. I also try and remember how I met each person.
Dave Norris- I approach relationships differently depending on the person. I will ask for a receipt of a family dinner or upgrade a team member on the airplane. You have to keep employees involved. For clients, start with providing a good service, but it's also important to spend as much time as possible with them, ie a round of golf.
David Wiers- I'm a fan of lifelong learning and challenging teams to grow and learn both personally and professionally. I also do the same for my clients.  I focus on culture and taking care of my people internally and externally.
Bill Himmelstein- With meeting 8-10 business owners every week, I had to do something to stay in front of everyone while adding value and not being salesy. I created the monthly executives bruncheon and luncheon as a way to bring the best people in my network to meet each other and learn through a topical discussion.
If you're a business owner with 20+ employees and interested in attending future TAG events, please email Bill Himmelstein at Bill@TagCommercialBroker.com.
TAG Executives Luncheon Guest List
Carl Utz, Partner, Andromeda Technology Solutions
Martha Bell, Principal, Tilton, Kelly + Bell
Joel Wilcoxen, Former CFO, Girl Scouts of Greater Chicago
Atish Doshi, President, Founder, Black Sheep
Brad Farris, Founder & CEO, Anchor Advisors
Liz Tilatti, CEO, ZipFit Denim
Mike Perich, CEO, Sewing Supplies Division of Bernina International
Mike Levin, Owner, Total Insurance Services
Dave Norris, COO, RedRidge Finance Group
Scott Glickson, Partner, McGuire Woods
David Wiers, Founder & CEO, Satori Energy
Brian Stumm, Partner, Stumm Insurance
Andy Mack, Managing Partner & Co-Founder, SnapMobile
Daniel Wang, CEO, Jexet Automation
Jon Wunderlich, President, Nyco Products Company
Kim Stapleton, Founder & CEO, The Network Effect
Alicia La Hoz, Founder & CEO, Family Bridges
Emily Lonigro, CEO & Founder, LimeRed
Lucas Ward, Co Founder & CTO, Kin
Jill Kerrigan, Founder & CEO, JAK Creative Design
Jamie Horn, CEO, Horn Design
Sherrin Ross Ingram, CEO- International Center for Strategic Planning, Vistage Chair, Chairman of the Board- DuPage Housing Authority Of Counsel- Tressler LLP