Executive Networking With Tenant Advisory Group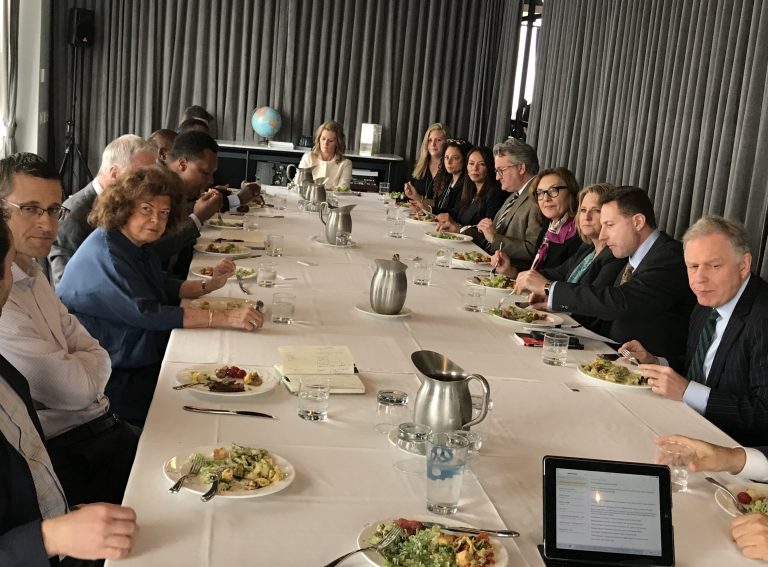 Every month, Tenant Advisory Group hosts an Executives Luncheon to provide an opportunity for Chicago business leaders to build new, meaningful connections and discuss topics relevant to running a business.
During one of April's Executives Luncheons, attendees were prompted with the question, "What efficient, creative and impactful ways do you use to stay on the radar of your clients, potential clients and networking partners?" Here are a few of the lessons shared in response:
Carol Cesaretti, Managing Partner, Quintairos, Prieto,Wood & Boyer- Ask clients what they want and give that to them. Basic monthly newsletters work, but also get out there to get to know them. Do free lunch and learns.
Jonathan Rothstein, Sr. VP, MB Bank- Set up a few in person meetings every day. Host breakfasts, lunches & dinners. People do business with people they like, so you need to be out there meeting people and making connections for others. Be involved in the community.
Bill Himmelstein, Founder & CEO, Tenant Advisory Group- I use a marketing and PR firm called Fetch for content generation. I also host events to bring people together.
Jon Berbaum, President, Highland Solutions-  I made a habit on Monday mornings to spend 30 minutes going through LI and CRM to touch base with people I haven't talked to in a while. I also read a lot and forward those articles to people of interest.
Melissa Dotson, President/ Owner,  Rieke Corp- We host lots of events at our facility and help with our network's fundraisers.
Mary Ann Rose, President, Tamar Productions, Inc- Write thank you notes, and hold special promotions.
Natasha Marriner, President, Klein Hall- Be relevant to clients. Get in front of them. Deliver gift baskets, and ask: what else can we be doing for you? Who can we introduce you to? Lead with value.
Tom Olivieri, President, Devon Bank- Stay in front of your network via social media.  I do lots of networking with COIs and even take prospects to see live music.
Paola Meinzer, Marketing Director, Manning Silverman- Identify their needs and try to meet them. Belong to organizations and associations and bring clients to those events.
Jelani Rucker, VP, BD at Zekelman Industries- Cultivate a huge presence on social media. Utilize interesting content that is relevant to the end user.
Morrie Elstien, Founder & CEO, MorrieConnects- Use the approach of helping people meet each other. Ask "How can I help you grow your business? and Who do I know that you'd like to meet?" That's the best way to form a relationship.
TAG Executives Breakfast Guest List
Carol Cesaretti, Managing Partner, Quintairos, Prieto, Wood & Boyer
Stefanie Jenkins, Owner, Jenkins, Advising, Director of BD, Vault Innovation Group, Chief Fundraising Officer The Next Foundation
Thomas McMenamin, Managing Partner, Masuda Funai
Jonathan Rothstein, Sr. VP, MB Bank
Bryan Engel, Partner, PBG Financial Services
Bill Himmelstein, Founder & CEO, Tenant Advisory Group
Jon Berbaum, President, Highland Solutions
Morrie Elstien, Founder & CEO, MorrieConnects
Melissa Dotson, President & Owner, Rieke Corp
Mary Ann Rose, President, Tamar Productions, Inc
Jeff Asperger, Partner, Meltzer, Purtill & Stelle
Natasha Marriner, President, Klein Hall
Christopher Gandy, Founder, Midwest Legacy Group
Tom Olivieri, President, Devon Bank
Paola Meinzer, Marketing Director, Manning Silverman
Peter Karnowski, President, Great Point Capital
Jelani Rucker, VP & BD, Zekelman Industries
Erryn Cobb, CEO, Fetch IMC