Executive Networking with Tenant Advisory Group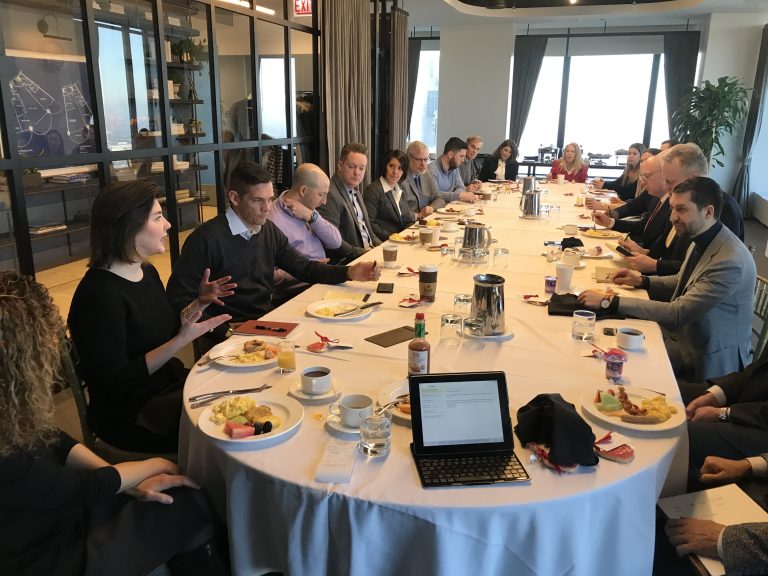 This Executives Breakfast inspired a number of great discussions and offered Chicago business leaders the opportunity to broaden their networks.
At the Executives Breakfast, attendees discussed "Is there a defining moment or decision you've made that has helped shape your career?" Here are the responses:
Jill Kushner Bishop, PhD, Founder & CEO, Multilingual Connections: Wanting to start a business for a while but had a comfortable position. HR director had made some unethical decisions and she spoke out and was given resignation later. Was Named Evanston business person of the year!
Jaclyn Moser, Partner, Harken Interiors: Was helping facilitate creative work and wasn't getting the right fit from the current job. Wasn't being fulfilled. Seeing the fruits of their labor.
Brian Black, Relationship Development Manager, Tenant Advisory Group: When he met Bill, he felt he was a genuine guy. When spoke with Mark Meyer he suggested a lane change for his career.
Matt Field, President, Express Employment Professionals – Used a recruitment firm and it was a terrible experience.
Chris Sommers & Jaclyn Moser, Founders & Partners, Harken Interiors: Getting paired up with Jaclyn and seeing how well they worked together.
Nanette McCarthy, Principal Partner, Griffin McCarthy & Rice: It started from previous employment and she met her partner there. She saw that the client's best interest was not being met. She and her partners started their own firm to put their client's best interests first.
Robert Natke, Partner, UrbanWorks: Just graduated from architectural school. He went back for an MBA and that changed his approach to architecture.
Max Adelman, State Farm Insurance Agent, Max Adelman State Farm: He was premed at home for break. His family told him to not be a doctor.
Joe Blandford, CEO, Greatline Communications: Had a job and got a new boss. His boss was a difficult person to work for and he left. After surviving cancer, he changed perspective. He has 4 daughters.
Cathy Jama, Executive Vice President, Tenant Advisory Group, LLC: Had a meeting with Bill and is now working with the TAG team. Surround yourself with positivity.
Laurel Bellows, Founding Managing Partner, Bellows Law Group, P.C. & Past President, American Bar Association: Met her future husband and current law partner. She wanted to be a trial lawyer when women weren't allowed to be lawyers. He was looking to train a woman to be a trial lawyer. Who stands in front of a jury and builds a relationship within 30 seconds, a man or a woman?
Percy Haley, Partner, Black Rhino Financial GroupF: Decided to switch careers from banking. Prayed about it and he met his partner Darryl.
Jamie Horn, Partner, Digital Experience and Marketing Recruiting: Her dad never encouraged her to get into the business. She did an internship in commercial real estate and came out of school in a recession.
Chris Salvi, Co Founder, Salvi Media: Interviewing a glioblastoma caretaker. Made him realize the power of the story.
Amber Autumn, VP of Business Development, Summit Design & Build: Her dad was a brick mason and he took her to jobs. When she was 8, her dad said do you want to go to work with me or stay home with your mom and clean the house?
Dane Sanders, Director of Capital Markets, Black Rhino Financial Group: Wife, and 3 kids were the defining moment. A client said you really helped me.
Rick Sudekum, Managing Partner, Sudekum, Cassidy & Shulruff: when some younger partners came to him and convinced him to start a new firm. Living values. 10 commandments. Do unto others.
Mark Meyer, Founder, E&M Strategic Development: Was a banker at Associated. Had a cushy job. He was approached by someone to go to straight commission and left salary. He has started 7 different businesses since. He cames back to relationships and began doing the right things. Do what you say you're going to do.
Ivan Vislavskiy, Co-Founder and CEO, Comrade Web Agency: inspired by his old boss. He loved him and thought very highly of him. He wanted to be like his boss. Decided needed balance in his life.
Chuck Gullet, Managing Broker, Best Chicago Properties: Has 13 yrs at Caterpillar. The moment of clarity was during Pearl Jam at Lollapalooza. Realized he needed to move to Chicago.
Cyrus Rivetna, Principal, Rivetna Architects Inc: Was doing everything for his business and took the plunge and hired his first employee. Changed his mentality that he can delegate. If you're not enjoying what you're doing, you're doing the wrong thing.
Guest List:
Max Adelman, State Farm Insurance Agent, Max Adelman State Farm
Laurel Bellows, Founding Managing Partner, Bellows Law Group, P.C. & Past President, American Bar Association
Tim Van Mieghem, Partner, Proaction Group
Dave Norris, COO, RedRidge Finance Group
Chuck Gullet, Managing Broker, Best Chicago Properties
Amber Autumn, VP of Business Development, Summit Design & Build
Laura Dribin, CEO & Founder, Peritius Consulting
Dane Sanders, Partner- Director of Capital Markets, Black Rhino Financial Group
Max Adelman, CEO, Max Edelman State Farm
Joe Blandford, President, Greatline Communications
Matt Field, President, Express Employment Professionals
Chris Sommers & Jaclyn Moser, Founders & Partners, Harken Interiors
Percy Haley, Partner, Black Rhino Financial Group
Jill Kushner Bishop, Ph.D., Founder & CEO, Multilingual Connections
Nanette McCarthy, Principal Partner, Griffin McCarthy & Rice
Andy Mack, Co-Founder & Managing Partner, SnapMobile
Chris Salvi, Co-Founder, Salvi Media
Robert Natke, Partner, UrbanWorks
Rick Sudekum, Managing Partner, Sudekum, Cassidy & Shulruff
Jaclyn Moser, Partner, Harken Interiors
Brian Black, Relationship Development Manager, Tenant Advisory Group
Joe Blandford, CEO, Greatline Communications
Cathy Jama, Executive Vice President, Tenant Advisory Group, LLC
Jamie Horn, Partner, Digital Experience and Marketing Recruiting
Mark Meyer, Founder, E&M Strategic Development
Ivan Vislavskiy, Co-Founder and CEO, Comrade Web Agency
Cyrus Rivetna, Principal, Rivetna Architects Inc