EXECUTIVE NETWORKING WITH TENANT ADVISORY GROUP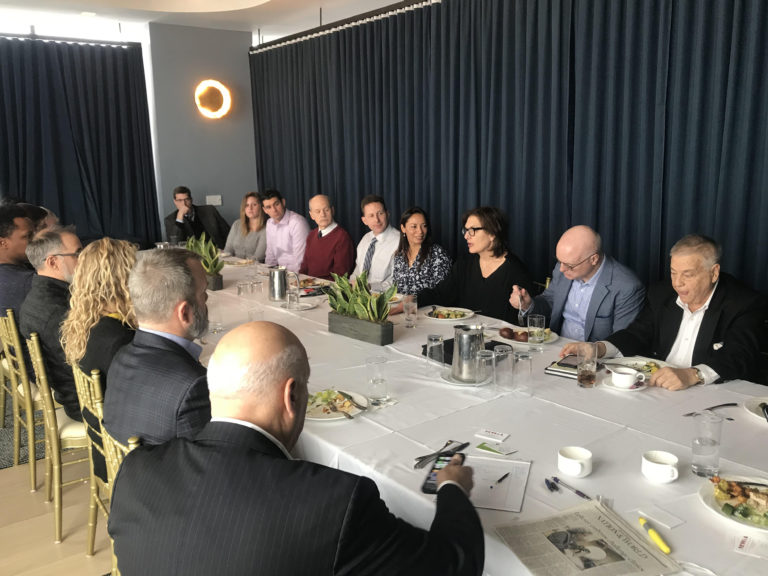 Every month, Tenant Advisory Group hosts an Executives Breakfast and an Executives Luncheon to provide an opportunity for Chicago business leaders to build new, meaningful connections and discuss topics relevant to running a business.
During the Executives Lunch, attendees were prompted with the question, "Some of our best referral sources can be existing clients. What do you do to stay in front of your current client base?" Here are a few of the lessons shared in response:
Thanks again for taking the time to attend and please remember to follow up with those you might have synergies with. A rising tide lifts all boats!
Bill Himmelstein, Founder & CEO, Tenant Advisory Group, LLC: I have found that by offering value such as the opportunity to meet other business owners and potential clients, they will show up. Asking a business owner how you can best support them is a wonderful way to go from vendor to partner."
Ian Stevenson, Partner, Straight North: Reminder in the calendar every 6 months to touch base."
Morrie Elstien, President, MorrieCONNECT: How can I help you grow your business and who can I connect you with? Best way to get a payback is to give something upfront. They need to ask how they can help you back.
Randy Bridgeman, Partner, Perkins Coie: Getting out of your office and meeting your clients and going to networking events with them. Have a proactive relationship with your clients.
Barbara Best, Founding Partner & Principal, Capital Strategies Investment Group: Focus on what you can do to support other people. Do a value add newsletter and video. "What can I do to help you?"
Paola Meinzer, Partner, Manning Silverman CPAs: Leave an audience with something they can take with them. Get engaged with committees and organizations.
Jonathan Rothstein, Senior Vice President, MB Financial Bank: Making strategic introductions for clients to help them grow their business. I try to get together quarterly in person, but a phone call works if needed. Have speakers and host events.
Gary Parenti, CFO, Worsek & Vihon: guest of Jonathan Rothstein: Do lots of writing and put good information out there. Don't do much electronically on purpose. Try to keep personal service as much as possible.
Tim Schumm, Founder & President, Lucas James Talent Partners: View yourself as a partner rather than a vendor. Bend over backward for each client and do whatever you can do for them.
Stefanie Jenkins, Director of Business Development, Vault Innovation Group: Have quarterly panel sessions for clients to speak in front of their other clients.
Ed Grasse, Managing Partner, Busse, Busse & Grasse: Stay ahead of the law and let clients know he is on top of it.
Rasheed Hammouda, CEO, BridgeFT: Need a scalable way to stay in front of clients. Need to consistently deliver value to clients.
Justin Frick, co-owner, AV Chicago: Reaching out to clients when new product offerings, new ideas and new clients who are doing something cool. Knowing customers and have that personal touch.
Jeff Asperger, Partner, Meltzer Purtill & Stelle LLC: Write blogs and small articles that may be of interest to them. Follow up with emails and telephone calls.
Stephen Beriau, Managing Director, Encina Business Credit: Stay in front with good information.
Erryn Cobb, CEO, Fetch IMC: 30% of revenue was from referrals from existing clients. Offer a referral fee to clients who refer them.
Eric Masi, President, Torque Digital Marketing: Post something on LI that's both business and personal.
Ruth Minnick, Global Business Development Manager, Client Executive, Unispace: Make introductions for clients. Hosts quarterly events focused on different industries. Write articles and white papers. Reach out with a survey at each stage of the project.
Scott Simpson, Owner, Scott Simpson Builders: Have a 3-year warranty that keeps them in front of their clients.
Mark Mann, Managing Partner, Mann Weitz & Associates: In touch with clients once a month for advice. Give out referrals to attorneys, insurance and wealth advisors.
If you're a business owner with 20+ employees who are interested in attending future TAG events, please email Bill Himmelstein at Bill@TagCommercialBroker.com.
Guest List
Gary Parenti, CFO, Worsek & Vihon – guest of Jonathan Rothstein
Dan Yost, Principal, Employee Benefit Consulting Group – guest of Bill Himmelstein
Mike Olson, Director of Acquisitions, DecisionOne Dental – guest of Bill Himmelstein
Mark Mann, Managing Partner, Mann Weitz & Associates – guest of Barbara Best
Scott Simpson, Owner, Scott Simpson Builders – guest of Morrie Elstien
Ian Stevenson, Partner, Straight North – guest of Morrie Elstien
Randy Bridgeman, Partner, Perkins Coie – guest of Morrie Elstien
Stephen Beriau, Managing Director, Encina Business Credit – guest of Morrie Elstien
Eric Masi, President, Torque Digital Marketing – guest of Ruth Minnick
Paola Meinzer, Partner, Manning Silverman CPAs
Ed Grasse, Managing Partner, Busse, Busse & Grasse – guest of Stefanie Jenkins
Justin Frick, co-owner, AV Chicago – guest of Jeff Asperger
Rasheed Hammouda, CEO, BridgeFT – guest of Tim Schumm
Erryn Cobb, CEO, Fetch IMC
Barbara Best, Founding Partner & Principal, Capital Strategies Investment Group
Jonathan Rothstein, Senior Vice President, MB Financial Bank
Tim Schumm, Founder & President, Lucas James Talent Partners
Jeff Asperger, Partner, Meltzer Purtill & Stelle LLC
Ruth Minnick, Global Business Development Manager, Client Executive, Unispace
Morrie Elstien, President, MorrieCONNECT
Stefanie Jenkins, Director of Business Development, Vault Innovation Group
Bill Himmelstein, Founder & CEO, Tenant Advisory Group, LLC