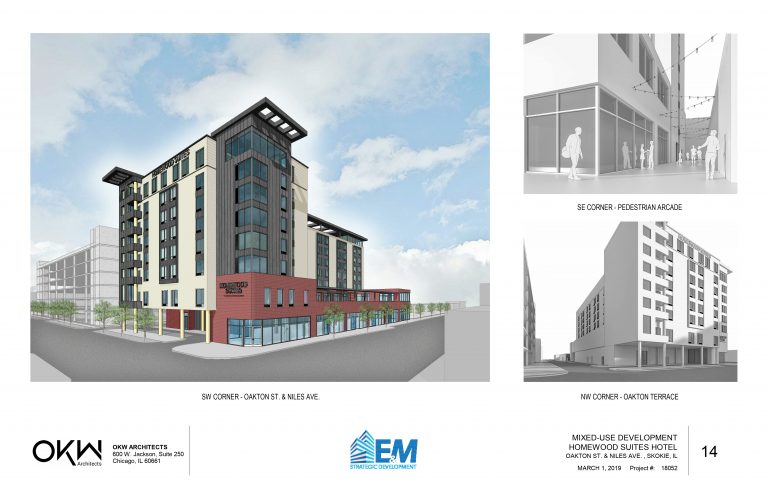 Description: Here is an opportunity to lease in the base of the new Homewood Suites Hotel in Skokie on the prominent corner of Oakton & Niles. The space is divisible to possibly 2 – ~5,000sf restaurants and a 2,130 retail use. It's adjacent to a new residential development site with plans to build 92 loft style dwellings.
Expected delivery date: Summer/Fall 2020
Size: 12,150sf
Demographics
2018 total Population:
1 mile – 25,796
3 mile – 159,591
5 mile – 640,941
Median HH income:
1 mile – $63k
3 mile – $78k
5 mile – $69k
Average age:
1 mile – 41
3 mile – 42
5 mile – 39
Traffic: between 9,000 – 16,000 cars a day
Location: Oakton & Niles Avenue, Skokie, IL 60077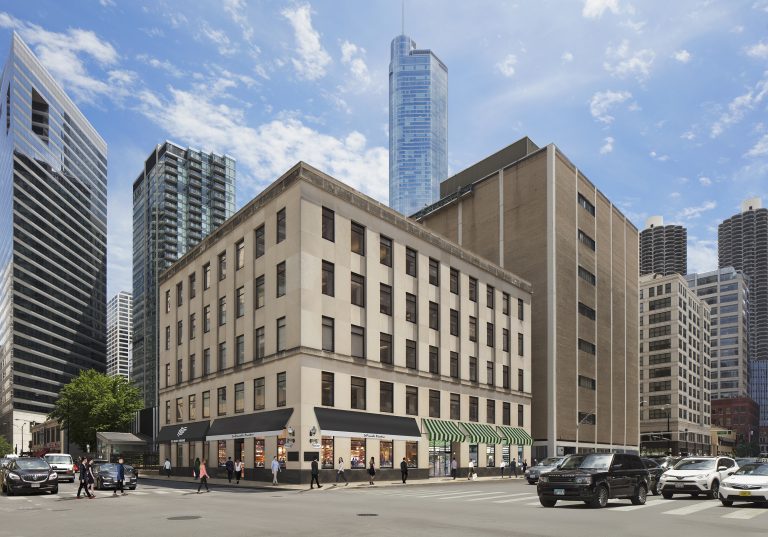 Description: Prime Corner retail space in the heart of River North. This is a great opportunity for a restaurant, bar, coffee shop, etc. with lots of natural light and a ton of foot traffic. It is also less than 2 blocks from the blue, brown, green, pink and orange line trains.
Size:
2,700sf
Demographics:
Population: 136,118
Households: 83,751
Average Age: 37.80
Median HH Income: $98,991
Daytime Employees: 535,558
Population Growth '19-'24: 6.5%
Household Growth '19-'24: 6.2%
Location:33 West Grand Avenue, Chicago, IL/ 515 North Dearborn Street, Chicago, IL
The South Loop, River West and West Loop each have taken their turn as being Chicago's "it" neighborhood. Now it's time to turn our eyes towards the Clybourn Corridor, the thin strip of land on the western edge of Lincoln Park between Clybourn Ave. and the Chicago River. This area already serves as a main shopping destination for Northsiders, and the recent addition of Newcity is part of a continuing trend in this area. There are many developments currently in progress with many more slated to come online for the near- and long-term future.
High Demand
The Clybourn Corridor is currently exploding with new developments planned and in progress. Despite the rising vacancy rates from the influx of new buildings, retail rent has remained steady and even reached higher levels in recent years. This stretch of well-located land is continuing to attract businesses, both large and small, and they are not shying away from the increasing rents. With retail, professional and residential buildings on the dockets, the Clybourn Corridor has the attention of the city.
Room to Grow
In the last five years, over two million square feet of commercial real estate space has come online with over 1,000 new residential units. Even with the high amount of proposals, there is plenty of room for development and redevelopment in the Clybourn Corridor. Most famously, the Finkl & Sons steel plant is one of the headlining redevelopment projects. Sterling Bay has recently unveiled their vision for the redeveloped Finkl & Sons steel plant which includes a mixture of office, retail and residential buildings to be built on over 30 acres of riverfront property.
A Fresh Start
One driving factor behind the surging demand to reshape the Clybourn Corridor is its ability to act as a blank canvas. Large developers are purchasing old properties with dated buildings and redeveloping these sprawling sites into efficient retail, office and residential buildings. Its extreme demand is also fueled by the dense nearby population and affluent neighborhoods near the Clybourn Corridor, which attracts shoppers and businesses. Additionally, Metra plans to update their Clybourn train station to match the rapid updates the area is receiving. The proposals to revamp the community expects to draw a large, new employment base and add thousands of residents, all creating a positive influence on Chicago's economy.
Chicago's real estate industry continues to grow as a plethora of new buildings come online each year. The city's lively entertainment scene, attractive amenities and its role as a booming international business hub make it a highly sought after location for corporations, and the employees who work for them. It will be exciting to watch the plans for the Clybourn Corridor unfold into a redeveloped, bustling stretch of Chicago.
The South Loop real estate market has been exploding in the last couple years, but what is the next neighborhood to experience a boom? Perhaps the answer isn't just one, but several. As businesses keep shifting their focus to downtown, neighborhoods surrounding the popular Loop, will boom: River West, River North, Goose Island, New City, Near West Side and Near South Side.
Get it Before it's Gone
Large corporations – McDonald's, Wilson Sporting Goods, Mars – have made the jump to the city, shrinking the amount of available space in the West Loop and other downtown areas. The surrounding neighborhoods mentioned above are at the early stages of popularity, and once they begin to trend, you'll be glad you secured your spot. As with residential real estate, when you find a space you like you should move on it before someone else does.
The Trending Areas
One of the early signs that Goose Island is entering the early stages of popularity is the announcement Amazon will build its 51,900-square-foot Chicago warehouse there. The Clybourn Corridor is also undergoing a large transformation from its previous life as a booming industrial area. The area's old Finkl Steel Mill site has plans for redevelopment, pushing the transformation of the Clybourn Corridor into the next phase. Warren Baker, a Chicago developer, already has plans to convert an old warehouse into a new, trendy loft office building, which will create an additional 65,000-square-feet of office space.
With Chicago being such an attractive option for corporations, the large amount of incoming developments will act as an additional lure to more businesses that are looking to move their headquarters closer to their employees.
New Developments
With new buildings coming online in the coming years across Chicago, the profiles of many neighborhoods are going to change. Goose Island is reaching the beginning of its post-industrial life with a vibrant future planned. Developers have a vision for the man-made island, and they want to turn it into Chicago's next top tech neighborhood. Properties are being purchased with plans to renovate the old industrial buildings into brand new, hip office spaces. Multiple large developments are already underway, however these large projects will take a few years to complete and fill-up with tenants. With the predicted facelift that Goose Island is slated to receive, there should be no shortage of tenants.
The downtown area is booming, and the effects of its popularity surge are beginning to spread outward. The fluid nature of neighborhoods will continue to cause shifts in popularity, making the coming year an exciting one to watch.
The Chicago real estate development industry has been buzzing this summer with dozens of innovative new projects aiming to break ground in the next year in the booming South Loop neighborhood. Tenant Advisory Group predicted at the end of 2014 that the South Loop will continue to be a red-hot neighborhood, and it looks like this momentum will last through 2017 and into 2018.
The recovering economy has brought a resurgence of demand for the neighborhood's urbanized lifestyle. Construction began last month on Prairie Court Townhomes, a luxury development at 18th and Prairie Ave. that consists of nine buildings offering 55 four-story townhomes for interested buyers. Those looking to rent in the South Loop should keep their eye on some of the high-profile towers coming to the area, including an all-glass, multi-tube designed rental apartment tower and retail center proposed for 1326 S. Michigan Ave.
Commercial and medical spaces are popping up as well. Rush University Medical Center announced it will bring an outpatient center to a new development replacing the former National Letter Carriers Association building at 1411 S. Michigan Ave. The building itself – a mixed-used residential development – will break ground this year, and the medical facility will open in 2018. Additionally, the Essex Inn expansion and the Riverline mega-development will bring more business to the South Loop.
There are plenty more proposals in the works that could drastically change the area, including a 62-acre site of former railroad land southwest of Clark Street and Roosevelt Road that could become its own neighborhood. Tenant Advisory Group continues to predict the South Loop is the future River North.
It's an exciting time in the Chicago tech scene, with new startups changing the entire face of our commercial real estate market. This infusion of creativity and drive is fantastic for our city, but is it really driving our overall economy forward? Reports say it's not.
According to the Bureau of Labor Statistics, the Leisure & Hospitality, Construction and Professional Services industries led the market in job growth in May 2016. Tried-and-true professions – e.g. lawyers, accountants, architects, etc. – are the real drivers in keeping Chicago diversified and thriving. These facts, however, are not receiving the same attention as tech to keep the commercial real estate industry fully informed.
Landlords across Chicago are investing in these tech companies, providing incentives such as tenant improvement dollars, rent abatement and leasing commissions, in the hopes they will turn into long-term commitments. Like banks, though, landlords can't lend on ideas over a tenant's actual ability to pay. We need to continue to support our tech scene while remembering which leasees prove to be the smartest investments.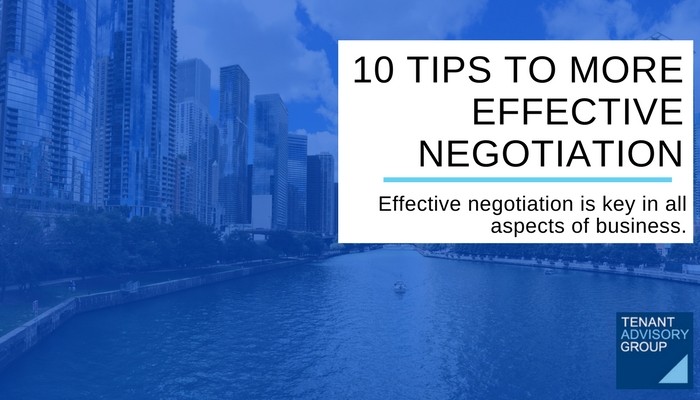 Effective negotiation is key in all aspects of business. Whether it be getting the raise you deserve, landing a deal, or with a lease getting the most "bang for your buck", if you will.
Earlier this week, Bill Himmelstein presented 10 Tips to More Effective Negotiation. Here is a recapitulation:
Information– information is the key to any successful negotiation. The more you have, the better position you will be in to achieve your goals.
Leverage-gaining leverage allows you easier access to achieve your goals in the negotiation. Often times, leverage can be found by gathering more information.
Fairness– you never want to take every penny off the table. Leave a little something for your opposition in a good faith showing of being fair. You may end up crossing paths again and you want to be able to pick up where you left off, which is successfully completing a negotiation.
Maintain calm demeanor– it is very important to never raise your voice. The purpose of yelling and screaming is to get someone to listen more closely, but it actually has the opposite effect. If you raise your voice, people will stop listening and progress will be halted.
Understand your adversary' motivations– by understanding what your opponent' goals are makes the accomplishing of your goals that much easier. Often times, the two sides might have varying definitions of success, making attainment a far greater possibility.
Understand your motivations– it is important to not lose sight of what you set out to accomplish. Many factors can play a role in working against you like ego, spite, saving face, or revenge. By remembering the purpose of the negotiation it can bring your focus back on what you are seeking to achieve and not wasting time and energy on things that distract you from your purpose.
Never make a threat you are not willing to keep– you will lose tremendous credibility and leverage by not following through on your threats. If you need to make a threat, you have to be willing to act on it should your adversary not comply with your demands.
Listen– this can be a tremendously effective negotiation tool. By asking questions and listening, you can gain great insight as to your challenger' motivations, you can gain valuable information that will increase your leverage, or you may just learn something personal that you connect over. Either way, we have two ears and one mouth- use them in the same proportion.
Know your BATNA– this is your Best Alternative to No Agreement. Just because you are in negations does not mean you have to accept something that does not make sense. Having an alternative that you can fall back on provides tremendous leverage and ensures you won't do a deal just to get something done.
Develop trust– everyone always prefers to work with people they can trust. This holds true with people you are negotiating against. It bodes well for future successes and better results in your negotiations.
One of the most important things to remember to use facts and leave emotion on the sidelines. Facts get results while emotions will just get you sidetracked.