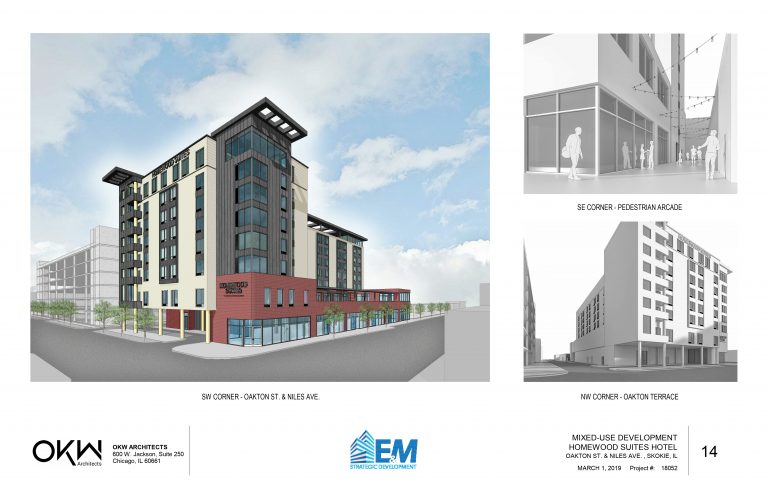 Description: Here is an opportunity to lease in the base of the new Homewood Suites Hotel in Skokie on the prominent corner of Oakton & Niles. The space is divisible to possibly 2 – ~5,000sf restaurants and a 2,130 retail use. It's adjacent to a new residential development site with plans to build 92 loft style dwellings.
Expected delivery date: Summer/Fall 2020
Size: 12,150sf
Demographics
2018 total Population:
1 mile – 25,796
3 mile – 159,591
5 mile – 640,941
Median HH income:
1 mile – $63k
3 mile – $78k
5 mile – $69k
Average age:
1 mile – 41
3 mile – 42
5 mile – 39
Traffic: between 9,000 – 16,000 cars a day
Location: Oakton & Niles Avenue, Skokie, IL 60077
Organizing the layout of your new office space is about more than just configuring desks — this complex art is actually an important contributor to your overall company culture and happiness! You'll need to consider important factors like gathering areas, noise level and relaxation stations. Here are a few key factors to keep in mind while planning a new office space.
Remember the Employees
Employees will spend a significant amount of time in the new office, so it's important to consider their wants and needs to increase workplace satisfaction. A well-designed office should adapt to the needs of the workers, and match the culture of your company. For example, a collaborative business will want an open space and less private offices, as that will promote communication. Space planning can also set aside an area where employees can personalize their work environment to create a sense of ownership and encourage productivity.
Plan for the Future
A company is never done growing, so leaving room for expansion when space planning can save money down the road. Consider how fast growth will happen and how many employees the company may need to accommodate down the road. Don't forget about storage as well. How much will your company need? Every business has different storage and filing needs, but it is always a critical aspect of a successful office layout.
Attract Top Talent
Proper space planning can create an inviting place to work, allowing you to attract top talent. Everything you can do to increase the quality of life for your employees will be reflected in the productivity of your office. Americans spend almost as much time at the office as they do at home, so building an office space that makes your employees happy is vital to the success of a company. It is definitely worth the extra budget to create an inviting and comfortable work environment.
Companies with several departments may want more than one type of layout within the office, as each department may thrive in different layouts. (Accounting may want cubicles, marketing may want an open floor plan and executives may want private offices). Working with an established broker will give you access to other professionals, such as an architect, who can help design your office layout.
Is your business overcompensating for the key buzzwords in company office space right now? Of course, we are talking about fun and collaborative. In order to impress clients and potential hires, creating a comfortable office space is an obvious goal for any company. However, there needs to be consideration into whether your new ping pong table actually meshes with the culture that is already ingrained in the fabric of the company.
The Game Room
While there is no harm in having a foosball table in office, be wary of turning the workspace into a game room. Everyone is attempting to follow in line with the "fun office space" trend, however many do not hold the same values that a company like Google does. Before buying the hot new toy, ensure that it makes sense for the image you are looking to portray. Avoid making this a priority unless it is harmonious with the clientele and talent you are trying to attract.
Open Concepts
Many companies have transitioned to the collaborative work space with an open concept. The idea surrounding this design is to create an environment that invites team effort into projects. If this suits the business that you are in, then it is a great idea. However, some business owners have found that it is more functional to have private areas where employees can engage in their individual work. Maybe for you it is a combination of both. The key here is to create a space that gives the most efficient utility, not just follow the latest trend.
In my experience, culture and a strong work environment derive from leadership and not gadgets. While it is important to attract talent, you want the right talent that is working, not playing. When the design of your space is all said and done, remember to keep a balance between working hard and playing hard. Any efforts should be about building a productive workforce.
The City of Chicago is experiencing a dramatic change in the availability of commercial real estate. The landscape is in flux due to the improving U.S. economy. Real estate typically lags the economy which leads to a very intriguing cycle of office space availability. Because of the interconnected nature of all of these issues, many of these trends could reverse in just a couple of years. However, for the foreseeable future, businesses and landlords can expect low availability due to the following issues.
Lack of New Buildings/Class C Space
One of the key indicators of a tightening of available space is that there are no new buildings coming online in the city anytime soon. Alongside this, Class C Space, which are considered buildings at rents below the average for a particular area, are being converted to hotels and residential spaces. As these two factors proceed concurrently, the supply of office space will continue to decrease.
Expanding Companies
Many suburban companies are moving into offices downtown in order to get closer to their workforce. Companies already at home in the city are actively expanding due to a recovering economy. Most companies are feeling more confident about their 5 and 10 year outlooks, which allows for growth or migration to the big city. Both of these forces at work combine to increase the demand for additional office space in Chicago.
Increasing Net Absorption Rates
Due to the previous two factors, over the next few years, net absorption rates, which measure the change of leased and occupied space, should continue to increase. This is especially considering there are no new buildings scheduled to open in the next 1.5-2 years. During this time, companies will continue to grow and end up bidding over the same spaces, therefore continuing the upward pressure on rental rates. As net absorption rates climb, the supply of office space continues to shrink.
Because real estate lags behind economic trends, as landlords and developers recognize this upward pressure on rental rates, they will then start building more properties to offset this fresh demand and lack of supply. However, as is the case with every cycle, the economy will eventually turn, the developers will have over built and we will resort back to increasing vacancy rates and reducing rental rates. Striking this balance is difficult, but proficient real estate agents must manage these cycles to find the best space for their client.
When searching for the most suitable office for your company, it's important to consider the building class type. While the class type is often overlooked by tenants, its actually an important factor to determine and compare one building to another. When the class is taken into consideration and understood, one will find there is a big difference.
Office buildings are classified into three categories (A, B, and C). The class can be determined by age, amenities, technology capabilities, quality of HVAC systems, landscaping and how well the building has been maintained.
Class A
These buildings are considered the highest quality available and state of the art. This is due to their modern architecture, sound infrastructure, well functioning HVAC system, professional management, tighter security and altogether well manicured appearance. Generally, these buildings will be under 10 years old. Thus, a Class A building or office space will be the most expensive.
Class B
These buildings are still high quality, but may be a little out-dated. The average age will be between 10 and 20 years. Even in this case many tenants and/or landlords find these buildings to be a good investment. The technology capabilities may not be best in class, but typically will suffice. Security may or may not be on staff and typically it is not required to check in, in order to reach the space. While the amenities of Class B spaces rank average, with some facade work, a bit of interior redesign, along with an upgrade in management these buildings and spaces have the potential to be converted to a Class A status.
Class C
This class varies depending upon location (city, suburb, town, etc). These buildings are generally 20 years old at minimum. Some may be well kept, however, normally these buildings will lack many modern amenities. Technology will be lower quality and the HVAC system may not function well. In addition, this could include old elevators and mechanical systems, moderately run-down parking lots, and out-of-date furnishings. These buildings will not have security staff or food available on the premises.