TAG's Holiday Networking Events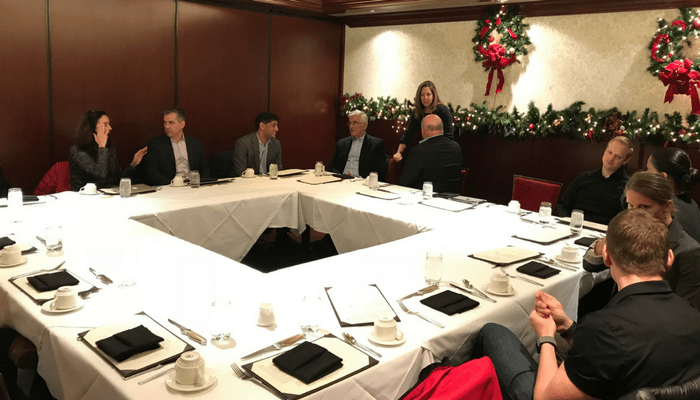 The December Executives Breakfast provided an opportunity for local c-level executives to build new, beneficial professional connections with other Chicago entrepreneurs. We are glad to see local business owners adopting these events as valuable networking experiences. Thank you to everyone who attended!
If you're interested in attending future TAG events, please email Bill Himmelstein at Bill@TagCommercialBroker.com.
TAG Executives Breakfast Guest List
Sandy Asanovic, COO, The Simons Group
Sam Barhoumeh, Managing Director, Ready Networks
Nirav Batavia, CFA, Co-Managing Partner
Brian P. Brammeier, CEO, Higher Ground
James Chen, President/CEO, Aura Innovative Technology, Inc.
Mason Cole, Founder and Managing Partner, Cole Sadkin
Melissa Costello, Owner, Melissacostello.com
Grant Gochnauer, Co-Founder, Vodori
Jonathan Gregoire, Director of Operations, Webster Dental Care
Jeff Hirner, Founder and COO, One North Interactive
Lisa Kalous, Residential Consultant, Lisa Kalous Group
Stephen I. Lane, Partner, Law Offices of Lane & Lane, LLC
Michael LaVista, CEO, Caxy
Stanton Lewin, Managing Director, Principal
Craig Lowder, President, MainSpring Sales Group LLC
Noah Mishkin, Co-Founder, CraftJack
Anders Norremo, Founder & CEO, Third Party Trust
Ross Petersen, Co-Founder & CEO, Blitsy
Mark Rice, CEO, Energy Connection
Melanie Roberts, CEO, New Sky Strategies
Ann Simms, COO/CFO, American Planning Association
Josh Strauss, Co-Founder, Pekin Singer Strauss
Rosemary Swierk, LEED Green Associate President, Direct Steel and Construction LLC
Hal Tezcan, Startup Port
Timothy Van Mieghem, Partner, The ProAction Group
Nicholas Zagotta, Roberts McGivney Zagotta