Tenant Advisory Group's Fall Networking Events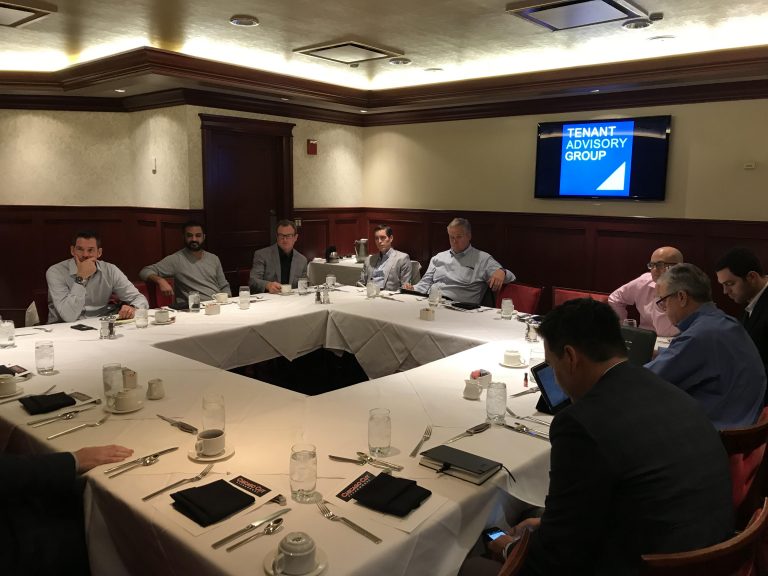 Local business leaders gathered at the Executives Breakfast and Luncheon to network with other entrepreneurs and examine a number of topics that are currently affecting their businesses.
During the Executives Breakfast, guests discussed what they were doing to get in front of potential new clients. Here are some of the many responses:
Michael Grace, CEO, Vetted Placements: Networking is key. Go to the nice bars and nice restaurants and meet people. Think outside the box. Don't hesitate to do cold emails and cold calling. When that doesn't work, send the overnight FedEx, because people think it's important.
Gary Breden, Business Performance Advisor, Insperity: Identify who the ideal client is, and then identify who can put you in front of those people. Going to events, developing affiliate programs and channel partners are all important. Build partnerships.
At the Executives Luncheon, participants were posed the question, "What employee-management issues have you struggled with in the past year, and how did you overcome it?" Here are a few of the responses:
Michael Nowak, CFO, ABN Amro: It's a challenge to inherit a team that was not previously managed. Try to give them opportunities without taking a step backward.
Joseph Antunovich, FAIA, Founder & President, Antunovich Associates : We have a hard time with the lack of loyalty. My advice is to be loyal, be nice and be hardworking. People are our most valuable asset.
Thank you to all who attended!
If you're a business owner with 20+ employees who is interested in attending future TAG events, please email Bill Himmelstein at Bill@TagCommercialBroker.com.
TAG Executives Breakfast Guest List:
Sponsored by Gary Breden, Business Performance Advisor, Insperity
Mason Awtry, President, Rightsize Facility
Kyle Deming, Founder, Wojo Design
Bob Domenz, CEO, Avenue Marketing Strategy & Activation

Atish Doshi, President & Founder, Black Sheep
Charles Falls, President, Demi & Cooper Advertising

Matt Gibbs, Co-Founder, UPshow

Michael Grace, CEO, Vetted Placements
Andy Hulett, Partner, EmPower HR
Jim Kales, CEO, Aspire
Larry Kaul, CEO, Kaul Sales Partners
Richard Kincaid, Founder & Managing Principal, Sage Greenlife
Julie Kolodziej, Managing Partner, Matlin Law Group
Kevin Krumm, CEO, Objective Paradigm
Rich Lenkov, Managing Partner, Bryce Downey & Lenkov
Stan Logan, Chairman, Quality Back Office
Neal McNamara, Co-Founder, Virtas Partners
Chris Miller, Managing Partner, Kelley Kronenberg
Dave Norris, COO, RedRidge Finance Group
Domenic Rinaldi, Managing Partner, Sun Acquisitions
Josh Strauss, CEO, Pekin Singer Strauss
TAG Executives Luncheon Guest List:
Joseph M. Antunovich, FAIA, Founder & President, Antunovich Associates  

Jeff Asperger, Partner, Meltzer Purtill & Stelle LLC

Barbara Best, Founding Partner, Capital Strategies Investment Group
Adam DeGroot, President, DeGroot Logistics
Laura Dribin, CEO & Founder, Peritius Consulting
Morrie Elstein, VP, Cendrowski Corporate Advisors

Christopher Gandy, Founder & President, Midwest Legacy Group
Larry Marin, VP, Near North National Title  
Ruth Minnick, Global Business Development Director, Unispace

Michael Nowak, CFO, ABN Amro

Mike Perich, Sewing Supplies Division CEO, Bernina International

Jonathan Rothstein, Senior VP, MB Financial Bank
Tim Schumm, President & Founder, Lucas James Talent Partner
Steve Whittington, Founder & CEO, LifeWorking Enterprises  
Kate Winston, Agency Lead – Strategy & Growth, EnvisionIt