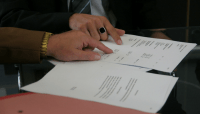 Reviewing each section of a commercial lease is a long process, but it's essential to identifying ways a tenant can save money. One often overlooked area of these documents is the array of options that can be used to securitize a lease, as well as the Surrender Clause upon lease expiration. Here are a few different options a tenant should consider when negotiating their lease.
Types of Securitization
There are multiple options and opportunities when it comes to security deposits. Review your options thoroughly to decide which makes the most financial sense for your business.
Cash Security Deposit: A landlord will hold this in an escrow account, and it is returned if the space is in good condition at the end of the lease.
Letter of Credit: The bank holds the money while it earns interest. However, there is a fee of one-half to one percent each year.
Checking Account: The money is held in a checking account, and it can't dip below the amount of the deposit. This can allow tenants to keep the money in their own account, which is beneficial if the business wishes to acquire equipment, property or another large purchase, as it shows stronger financials.
Surety Bond: This acts as an insurance policy if things go poorly, and it doesn't impact credit. Surety bonds are available for larger companies. If the landlord draws upon the security deposit, then the insurance company will cover it.
Expensive Lease Language
Carefully read the language of the lease as it pertains to the Surrender Clause (the condition the tenant is supposed to leave their space in upon lease expiration), as different terms carry their own meanings and some can require a lot more work and money. For example, retail landlords often want the space returned in a "white box" condition. This can be quite expensive, as it means moving furniture, deep cleaning and removing wires. If the Landlord requires the premises to be left "in the condition that existed when the premises were turned over" this could include reversal of any improvements or alterations done to the space. Tenants often underestimate the cost of these requests versus the value it will have for the business. However, you can avoid these expensive requirements by negotiating the space be returned to "broom clean" condition. Working with the language of the lease to favor the tenant can save a significant amount of money and time for a business.
With every lease, there will be an opportunity to negotiate both Securitization and the Surrender of Premises. It is best to use a qualified commercial real estate broker on the Tenant's behalf in order to achieve optimal savings and negotiate the most favorable lease terms.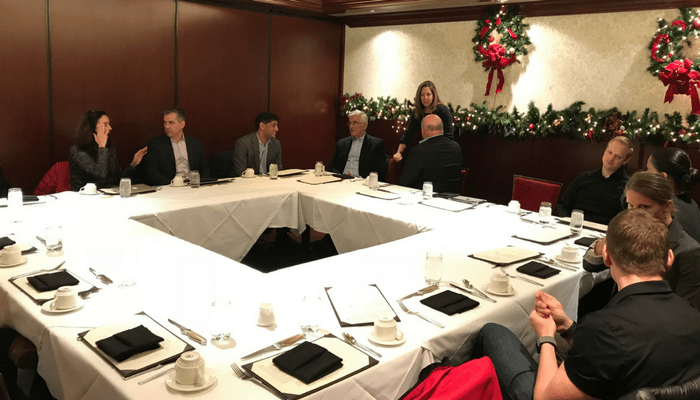 The December Executives Breakfast provided an opportunity for local c-level executives to build new, beneficial professional connections with other Chicago entrepreneurs. We are glad to see local business owners adopting these events as valuable networking experiences. Thank you to everyone who attended!
If you're interested in attending future TAG events, please email Bill Himmelstein at Bill@TagCommercialBroker.com.
TAG Executives Breakfast Guest List
Sandy Asanovic, COO, The Simons Group
Sam Barhoumeh, Managing Director, Ready Networks
Nirav Batavia, CFA, Co-Managing Partner
Brian P. Brammeier, CEO, Higher Ground
James Chen, President/CEO, Aura Innovative Technology, Inc.
Mason Cole, Founder and Managing Partner, Cole Sadkin
Melissa Costello, Owner, Melissacostello.com
Grant Gochnauer, Co-Founder, Vodori
Jonathan Gregoire, Director of Operations, Webster Dental Care
Jeff Hirner, Founder and COO, One North Interactive
Lisa Kalous, Residential Consultant, Lisa Kalous Group
Stephen I. Lane, Partner, Law Offices of Lane & Lane, LLC
Michael LaVista, CEO, Caxy
Stanton Lewin, Managing Director, Principal
Craig Lowder, President, MainSpring Sales Group LLC
Noah Mishkin, Co-Founder, CraftJack
Anders Norremo, Founder & CEO, Third Party Trust
Ross Petersen, Co-Founder & CEO, Blitsy
Mark Rice, CEO, Energy Connection
Melanie Roberts, CEO, New Sky Strategies
Ann Simms, COO/CFO, American Planning Association
Josh Strauss, Co-Founder, Pekin Singer Strauss
Rosemary Swierk, LEED Green Associate President, Direct Steel and Construction LLC
Hal Tezcan, Startup Port
Timothy Van Mieghem, Partner, The ProAction Group
Nicholas Zagotta, Roberts McGivney Zagotta