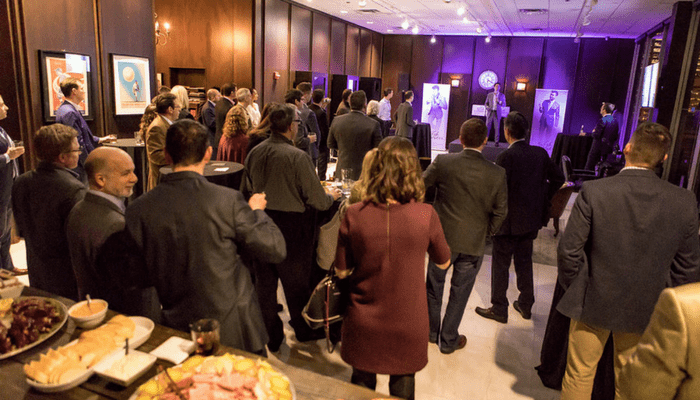 Tenant Advisory Group kicked off its 10th year in business with a fantastic event at Gentleman's Cooperative this month. The evening was filled with food, drinks, entertainment and rewarding networking opportunities.
Guest List:
Anil Ahuja, President, CCJM Engineers
Sandy Asanovic, The Simons Group
Amber Autumn, Business Development Summit Design + Build, LLC
Sam Barhoumeh, Managing Director, Ready Networks LLC
Stuart Baum, President, LargerPond Marketing
Laurel Bellows, Founder, The Bellows Law Group
Bob Berland, President & CEO, Berland Communications
Brian P. Brammeier, CEO, HIGHERGROUND Managed Services
Don Bora, Cofounder and Principal of Technology, Eight Bit Studios
Fletcher Boyle, Chicagoland Smile Group
Steve Brown, President, Stratego Partners
Richard Carden, Managing Partner, MBHB
Mason Cole, Founding Partner, Cole Sadkin LLC
Melissa Costello, Founder, MELISSACOSTELLO.COM
Bejan Douraghy, Founder & CEO, Artisan Talent
Ric Edinberg, Executive Director, INSITUM US
Jonathan Eisler, Managing Director, Perspectives Organizational Consulting Group, President, Association of Consultants to Nonprofits
Morrie Elstein, VP, Cendrowski Corporate Advisors
Eric Feldman, Founder, Eric Feldman & Associates, P.C.
Jon Fieldman, Esq., Fieldman Law Group, P.C.
Dr. Gloria Garguilo, Owner, Garguilo Periodontics
Chris Gersch, Founder & CEO, Verde Solutions
Matt Gibbs, Founder, UPshow
Adam Glazer, Managing Partner, SFNR
Grant Gochnauer, Co-Founder & CTO, Vodori Inc
Rick Gray, CEO, Talent Rise
Mark Grazman, Strategic Business Development Consultant, Booksy
Michael Haeberle, The Patterson Law Firm
Adam Hirsen, CEO, UPshow
John Paul Hills, Hills Capital Management & Wintrust Commercial Banking
Rachel Horvath, COO, Move-tastic!
Pete Horvath, Founder, Move-tastic!
Robert Jacobi, President, Arc Technology Group
Ryan Jacobs, Founder, CloudSpotter
Andre Janus, CEO, Cristaux International
Leonard Kang, VP Solutions-Midwest People Driven Solutions
Jefferey Ogden Katz, The Patterson Law Firm
Lina Khalil, Co-Owner, Fetch PR
Richard Kincaid, Founder, Sagegreenlife
Josh Kritzler, President & Co-Founder, PCGSportsDesk
Stephen I. Lane, Law Offices of Lane & Lane, LLC
Michael LaVista, CEO, Caxy Interactive
Eddie Lou, Executive Chairman & Co-Founder, Shiftgig
David Macknin, President & CEO, Alper Services
Michael Maddock, CEO & Founding Partner, Maddock Douglas
Mark Meyer, CEO, ICI Staffing
Chris Miller, Managing Partner, Kelley Kronenberg
Michael Millhouse, President, BridgePoint Technologies
Bryan Minier, Managing Partner, Lathrop Gage
Heather Morrison, CEO, MAPS
Tyler Mose, CEO, Indirap Productions
Mark Nadolski, Founder, VES Creative
Scott Nicholson, Partner, KindredOnore,LLC
Dave Norris, Chief Operating Officer, RedRidge Finance Group
CJ Parrilli, CFO, Cristaux International
Adriano Pedrelli, President & CEO, ImpactPolymer LLC
Phil Penton, CEO, Xcite Advertising
Daniel Porcaro, CEO, Porcaro Stolarek Mete Partners LLC
PJ Rashid, Managing Partner, Popskull
Paul Raya, Cook Alex
Ron Repking, Founding Partner, Sriracha Partners
Gregg Salkovitch, Managing Partner, Right Choice Resources
Tim Schumm, Managing Partner, Carver Peterson Consulting
Aalap Shah, Partner & Co-Founder, SoMe Connect
Sangeet Shah, Owner, Midwest Express Clinics
Mike Shannon, Co-Founder & CEO, Packback
Adam Silverman, Managing Partner, Adelman & Gettleman
Josh Strauss, Pekin Singer Strauss
Dave Stolarek, COO, Porcaro Stolarek Mete Partners LLC
Robert Szafarowicz, VP of Buzz, Cristaux International
Bob Tangredi, CEO, PHSI
Jim Vaselopulos, Founder & CEO, Rafti Advisors
Ivan Vislovskiy, Co-Founder and CEO, Comrade Web Agency
Anna Maria Viti-Welch, President, The Viti Companies
Jeremy Waitzman, Partner, Sugar Felsenthal Grais & Hammer LLP
Tony Wilkins, Mentor, Junto Institute, CE), AEWilkins Holdings
Bryan Wilson, Kogut & Wilson LLC
Will Wright, Managing Partner,Dunmore Capital Partners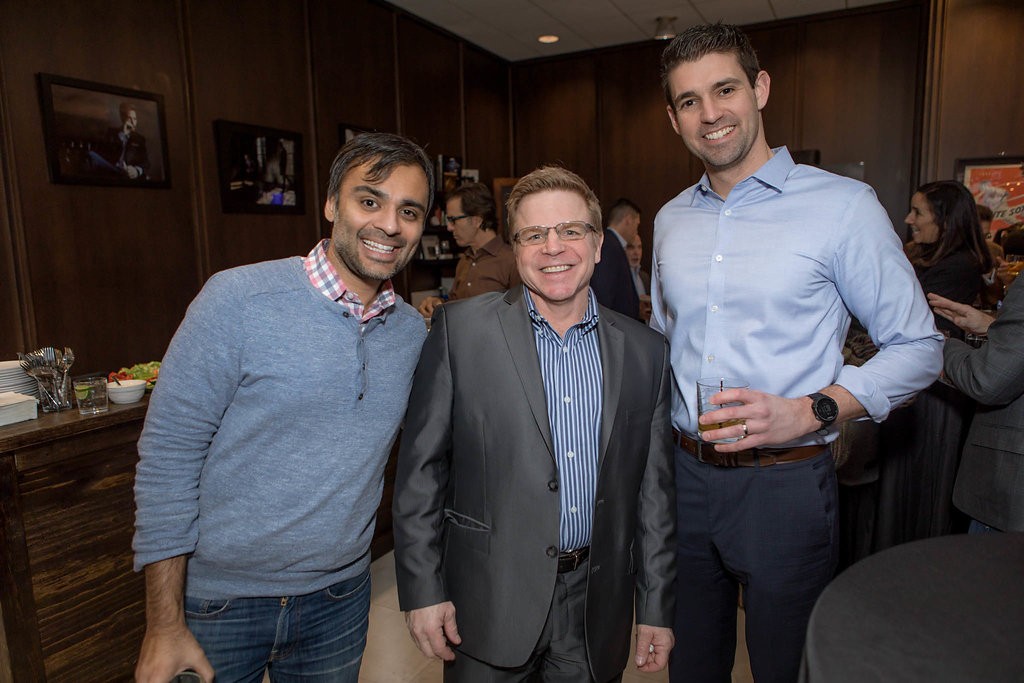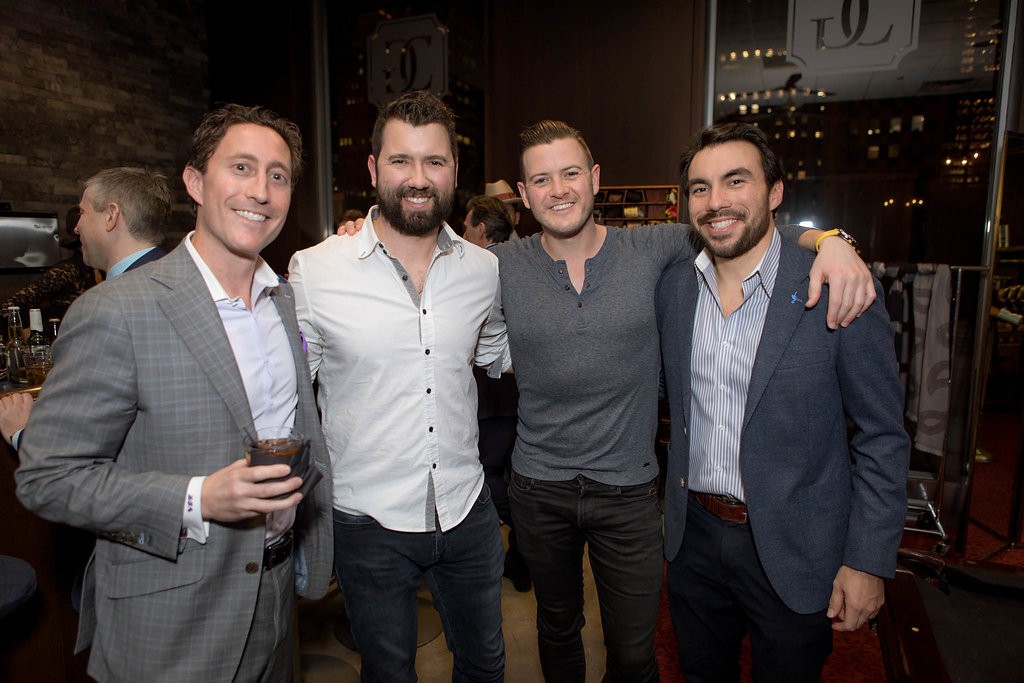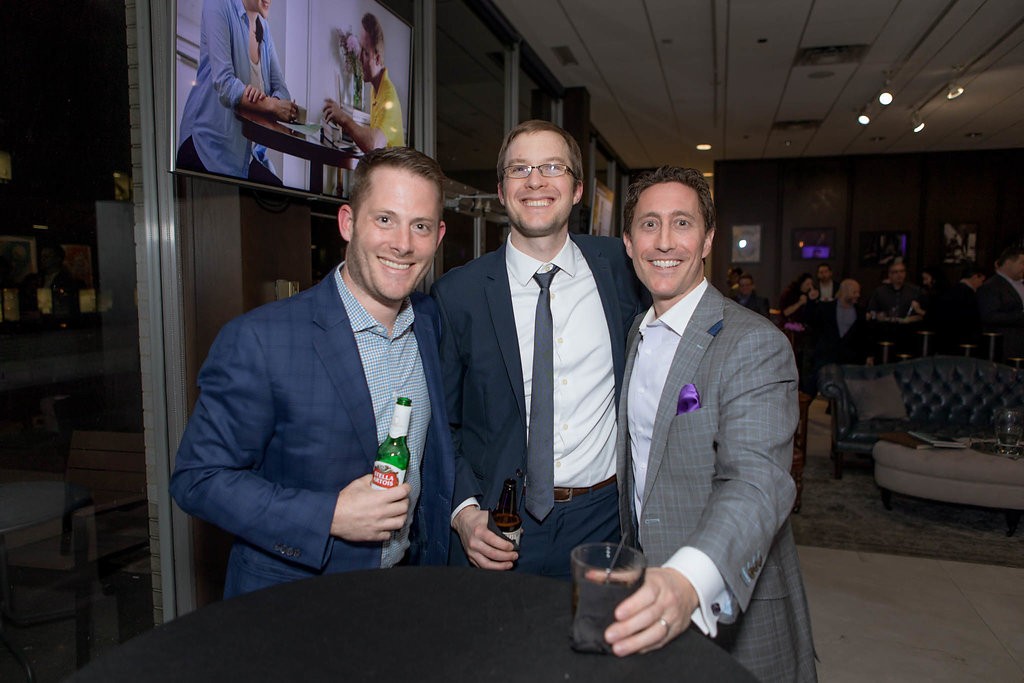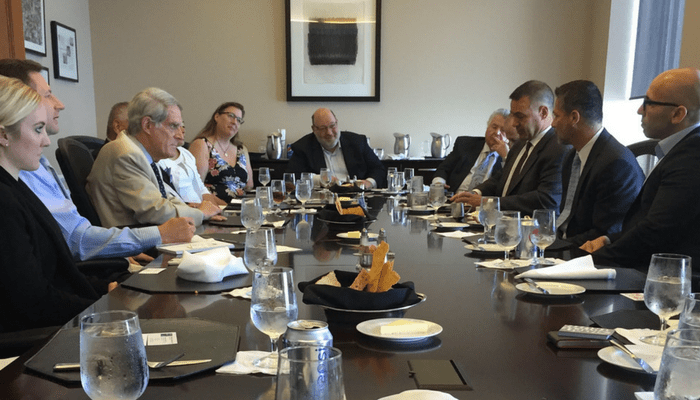 The start of the year was met with new connections at the Tenant Advisory Group's Executives Breakfast and Executives Luncheon. Owners and decision makers from a wide-range of industries came together to build their networks and learn how they can work together to grow their business.
At the breakfast, a lot of great responses were shared based on the discussion question: what is the largest transformation your company has been through? Here are a few responses.
Matt Green, Founder, VentureScale: We work with growth based VC-backed companies to help scale early stage companies, and so we launched a sales accelerator. We saw the need and addressed it.
Mike LaVista, CEO, Caxy: We had one client who was 50% of our business, and they stopped the engagement. We had to restructure the company and going forward made sure no single client made up more than 25% of our revenue. That has helped to stabilize our business.
Bob Goodman, President, ForteONE: Our business was in constant strategic transformation, and we set out to create more repeat, continual business. We built out a process to grow each service line in a thoughtful way, and it all started with who we were talking to.
Thank you to all who attended!
If you're interested in attending future TAG events, please email Bill Himmelstein at Bill@TagCommercialBroker.com.
TAG Executives Breakfast Guest List
Stuart Baum, President, Large Pond
Bob Berland, CEO, Berland USA
Laurel Bellows, Managing Partner, Bellows Law Group
Rob Bisceglie, CEO, Action for Healthy Kids
Craig Castelli, CEO, Caber Hill Advisors
Melanie De Caprio, President, New Sky Strategies
David Diamond, Partner, Kutchins, Robbins & Diamond Ltd.
Daphne Dolan, Managing Partner, City Staffing
Ric Edinberg, Executive Director, Insitum
Morrie Elstein, Vice Presidentt, Cendrowski Corporate Advisors
Chris Gersch, Founder & CEO, Verde Solutions
Keith Glantz, President, Glantz Design
Bob Goodman, President, ForteONE
Mark Grazman, COO, MailControl
Matt Green, Founder, VentureScale
Tim Van Mieghem, Partner, The Proaction Group
Bill Himmelstein, CEO, Tenant Advisory Group
Leonard Kang, People Driven Solutions
Scott Kitun, CEO, Technori
Michael LaVista, CEO, Caxy
TAG Executives Luncheon Guest List
Adnan Adamji, President, XCelCore
Jeff Bechar, President, ComforCare
Juan Carlos Bosacoma, President, CIO Landing
Jim Dash, Managing Partner, Carlson Dash LLP
Daphne Dolan, Managing Director and Owner, City Staffing
Atish Doshi, President and Founder, Black Sheep
Bob Goodman, President, ForteONE
Julie A. Kolodziej, Managing Partner, Matlin Law Group
Kevin Krumm, CEO, Objective Paradigm
John Posner, CEO, Harrison & Held
Junilla Sledziewski, Owner, Kershner Sledziewski Law
Anna Maria Viti-Welch, President, Guy Viti Insurance
Bill Himmelstein, CEO & Founder, Tenant Advisory Group
Dan Porcaro, CEO, PSM Partners
Kim Robinson, President, Frontline
Jonathan Rothstein, Senior Vice President, MB Financial Bank
Joanna Sobran, CEO, MXOtech
Morrie Elstien, Vice President, Cendrowski Corporate Advisors
Stuart Baum, Owner, LargerPond
Melanie De Caprio, CEO, New Sky Strategies
Eric Lazar, Partner, SpeedPro Imaging
Laurel Bellows, Managing Partner, Bellows & Bellows
David Diamond, Partner, Kutchins, Robbins & Diamond Ltd.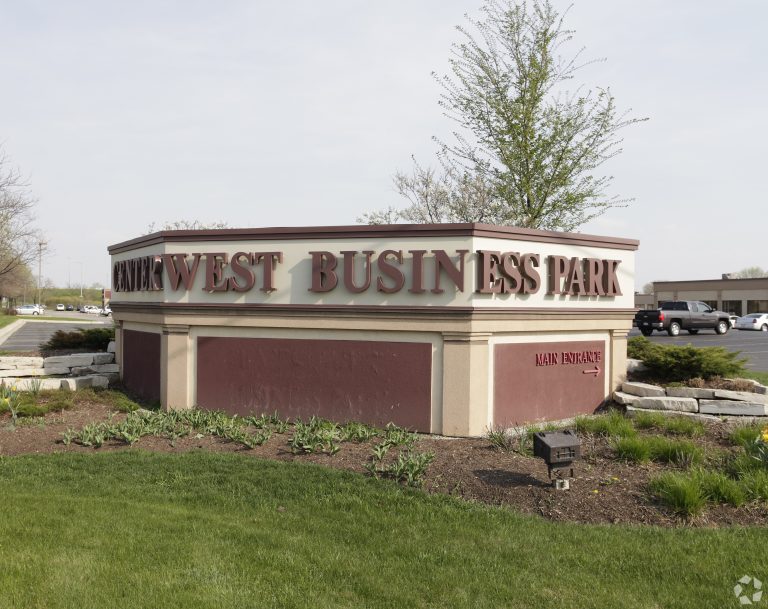 Description: Here's a unique opportunity to sublease suite 134 (11,046 SF) in a Class B building at 2055 W. Army Trail Road in Addison, IL. The sublease is available now through September, 30 2022. The building is located at the corner of two high-traffic roads, I-355 and Army Trail Road, and it features an office space, warehouse and a showroom with plenty of storage and an onsite management team.
The space is in a class b office and warehouse with a showroom space included. The suite features loading docks with two garage door entrances, ten offices, three conference rooms, four workstations and two small storage rooms.
The building is conveniently located at the four-way interchange of I-355 & Army Trail Rd. with a Pace bus stop adjacent to the park. It has high visibility to I-355 and Army Trail Road (127,716 vehicles per day (VPD) on I-355 and 58,700 VPD on Army Trail Road), and is located near a fitness center, hotels, restaurants and a golf resort. The building is only 22 minutes from O'Hare Airport and 34 minutes from Midway Airport.
The park features a single-story office/flex building with loading available truck dock(s) and drive-in door access. Building signage is available, and there are 517 parking spaces available for the property. The building has a nine foot ceiling height in the office, and twelve foot ceilings in the warehouse.
The individual suite features a tenant-controlled HVAC, 24/7 access, in-suite washrooms, mail, FedEx and UPS services and it is fully sprinklered.
Size: 11,046 SF of space split between a warehouse (831 SF), large storage space (1,231 SF), two training rooms (516 SF and 985 SF) and a showroom (1,598 SF).
Cost : $9/SF
Location: 2055 W. Army Trail Road in Addison, IL 60101
Description: A 10.5 acre property is available for development. The property is 10 minutes from Lake Geneva and Lake Delevan. The nearby area has over 100,000 full-time residents with over 300,000 visitors per year. The adjacent business park has over 4,500 visitors per day, and the traffic count for I43 is 22k per day and for route 67 it is 9k per day. The site will feature a Love's Travel Center, as well as a Fairfield Marriott hotel with 70 rooms. It is a great opportunity for a restaurant and other retailers to cater to the Marriott and Love's guests, as well as the industrial park traffic.
Size: 10.5 acres
Location: Elkhorn, Wisconsin. I-43 and South 67.