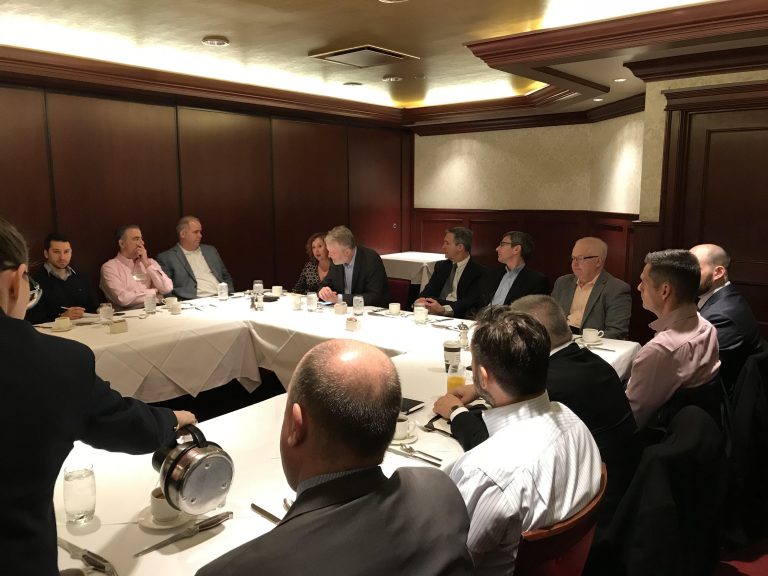 The June Executives Breakfast and Luncheon offered a constructive environment for local Chicago entrepreneurs to broaden their network. Attendees had the opportunity to share ideas, experiences and business advice with one another.
At the executives breakfast, guests were asked "what they have done, or stopped doing, that has increased their productivity." Here are a few of the responses:
Mason Awtry, President, Rightsize Facility: I syndicate myself through technology and only read emails a few times a day to stay productive. Someone else also reads my emails to distill it down. I also have technology-free Fridays and have someone run my social media. This helps me be more present in the moment.
Jim Anderson, President, Switchfast: I implemented traction to increase productivity. I also have a Friday afternoon calendar reminder to pick three things to get done next no matter what.
Attendees at the Executives Luncheon were given the topic of "best productivity practices and how to best sift through the noise." Here are some of their responses:
Jeff Asperger, Partner, Meltzer, Purtill & Stelle: Build constant relationships with clients and people you're working with, get to know them. Use the telephone and cultivate relationships.
Delegating is also very important. Set a good example and be a leader.
Rob Klein, Managing Partner, Klein Paull Holleb & Jacobs, Ltd.: Be hyper efficient, I have a to-do list every day. Create templates of everything you can and use software to be technologically advanced. It is also best to hire people that are smarter than you.
Thank you to all who attended!
If you're a business owner with 20+ employees and are interested in attending future TAG events, please email Bill Himmelstein at Bill@TagCommercialBroker.com.
TAG Executives Breakfast Guest List
Jim Anderson, President, Switchfast
Mason Awtry, President, Rightsize Facility
Jon Berbaum, President, Highland Solutions
Bob Berland, President, Berland Communications
Atish Doshi, Founder, The Black Sheep
Kenny Estes, CEO, West Loop Ventures
Gregory J. Fine, FASAE, CAE, CEO, CCIM Institute
Scott Glickson, Managing Director, PURSANT, LLC
John Gotschall, CEO, Coaching Financial Concepts
JC Grubbs, CEO, DevMynd
Jerry Holisky, Managing Partner, Aronberg Goldgehn
John LaRoy, President, CoachVend
Daniel Levin, President, Liventus
Guy Logan, CEO, Logan Consulting
Scott Markman, President, The Monogram Group
Victoria Rock, President, Victoria Legal & Corporate Services
Jim Taylor, CEO, Launchways
Ken Thompson, Managing Director, Level X Consulting
John Udelhofen, CFO, One North Interactive
Jason Van Zant, Managing Director, Keystone Capital
TAG Executives Luncheon Guest List
Jeff Asperger, Partner, Meltzer, Purtill & Stelle
Joe Brocato, Partner Gozdecki, Del Giudice, Americus, Farkas & Brocato LLP
David Diamond, Managing Partner, Kutchins, Robbins & Diamond
Troy Ellis, VP of Finance, Aparium Hotel Group
Morrie Elstein, VP, Cendrowski Corporate Advisors
Mike Garelli, CEO & Founder, Marco & Associates
James & Michele Gustin, CEO & President, Fig Media
Elizabeth Hodos, Founder / CEO, Hodos Consulting
Steve Jakubowski, Shareholder, Robbins, Salomon & Pratt
Robert Klein, Managing Partner, Klein Paull Holleb & Jacobs, Ltd.
Robert M. Lanigan, Executive Director, Morgan Stanley Private Wealth Management
Dan Porcaro, CEO, PSM Partners
Mark Rickmeier, CEO, Table XI
Jonathan Rothstein, SVP, MB Financial Bank
Gregg Salkovitch, CEO, Rightchoice Resources
Joanna Sobran, CEO, MXOtech
Roch Tranel, CEO, Tranel Financial Group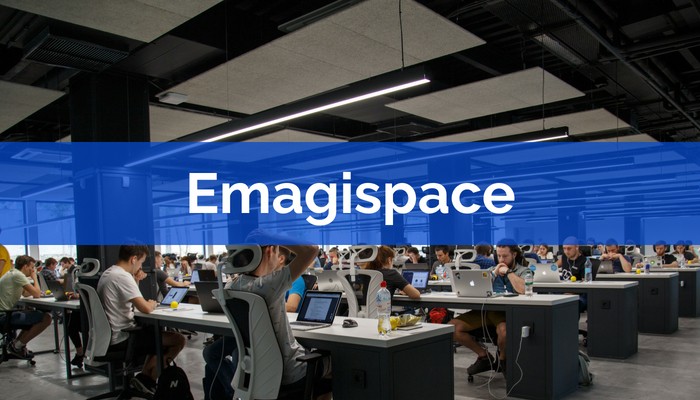 The latest movement in office design is uniting the benefits of both the open floor plans and private offices. Emagispace reached out to Bill Himmelstein for advice on how to balance the two designs to create a space that promotes independent and collaborative productivity.

Read the articlehere.