Networking Season is in Full Bloom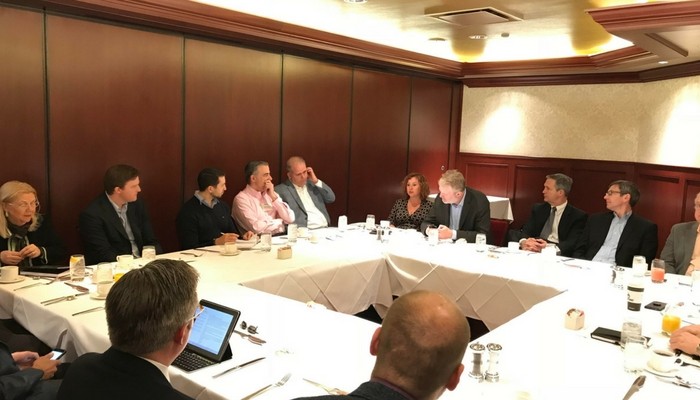 The April executives networking events brought together many new entrepreneurs to grow their networks and walk away with tangible knowledge. The Executives Breakfast and Luncheon created a convenient environment for entrepreneurs to offer valuable advice and build strategic connections.
At the Executives Breakfast, guests were prompted with the question: What are your best practices surrounding networking? Here are a few of the many responses:
Morrie Elstein, Vice President, Cendrowski Corporate Advisors: Take the high road and become a trusted partner. Everyone is always thinking about how to grow their business, and who their next client will be. Separate yourself by offering to help them grow their company. "How can I help you grow your business?"
Mark Meyer, President, ICI Staffing/E&M Development: Follow through on what you say you're going to do, as it helps build your reputation and credibility. Also, reconnect with those who have supported you in the past. He jokingly added, "Attach yourself to Bill Himmelstein's hip!"
Bill Himmelstein offered another discussion question at the Executives Luncheon: Most pivotal experience that has changed you and shaped the way you do business? Here are a few of their responses:
Dan Porcaro, CEO, PSM Partners: Listened to the CEO of the company who had a formula for integrating companies with an 80/20 rule. Fire 75% of clients and then over serve your current clients. About 90% of revenue comes from the top 25% of clients. Focus assets on the most essential revenue streams.
Joanna Sobran, CEO, MXOtech: Read the Pumpkin Plan. If you fill your land with lots of little pumpkins, then the big ones will have no room to grow.
Thank you to all who attended!

If you're a business owner with 20+ employees and are interested in attending future TAG events, please email Bill Himmelstein at Bill@TagCommercialBroker.com.
TAG Executives Breakfast Guest List
Bruce Billmeyer, Partner, BCU Risk Advisors
Andrew Boron, President, Clear Spring
Steve Brown, CEO, Stratego Partners
Harry Cendrowski, CEO, Cendrowski Corporate Advisors
Jake Dayan, CEO, Community Tax
Morrie Elstein, Vice President, Cendrowski Corporate Advisors
Dave Feder, Principal, Office Revolution
Jon Fieldman, Managing Partner, Fieldman Law Group
Ben Fornell & Mike Dawson, Co Founder & CEO, Shurpa, Inc.
Keith Glantz, President, Glantz Design
Kevin Krumm, CEO, Objective Paradigm
Josh Lucas-Falk, Managing Director, Moment
Ben Olson, Managing Director, Forrest Capital Management
Mike O'Meara, CEO, O'Meara Capital Group
Paul Pagel, CEO, 8th Light
John Posner, CEO, Harrison & Held
Victoria Rock, CEO, Victoria Legal & Corporate Services
Joanna Sobran, CEO, MXO Tech
Craig Stout, CEO, Stout Risius Ross
Jon Talty, Chairman & CEO, OKW Architects
Robert R. Topping, CFA, CEO, Topping Capital
Ivan Vislavskiy, CEO, Comrade Web Agency
Rob Wilson, President, The Wilson Companies
Nick Zagotta, Managing Partner, Roberts McGivney Zagotta
TAG Executives Luncheon Guest List
Jeff Asperger- Meltzer, Purtille and Stelle, LLC
Daniel R. Bryant- Chief Executive Officer Sheridan Road Financial, LLC
Elizabeth Colón – President and CEO of Metaphrasis Language & Cultural Solutions
Zak Dabbas- Co Founder & CEO of Punchkick Interactive
Morrie Elstein
Slava Ruderman- President of Onward Technologies
Donna Salvatore- CEO Magalytics
Marne Smiley- CEO Bumper Lanes
Karen Todd- Principal Aurore Financial Group
Ryan Ventura- CEO of VEO Solutions