Tenant Advisory Group's Penthouse Soiree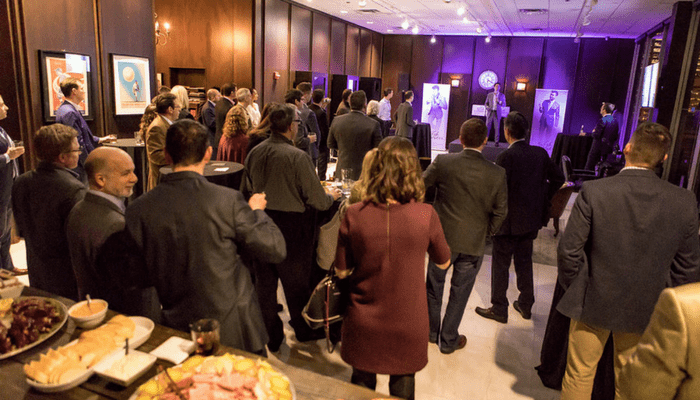 Tenant Advisory Group kicked off its 10th year in business with a fantastic event at Gentleman's Cooperative this month. The evening was filled with food, drinks, entertainment and rewarding networking opportunities.
Guest List:
Anil Ahuja, President, CCJM Engineers
Sandy Asanovic, The Simons Group
Amber Autumn, Business Development Summit Design + Build, LLC
Sam Barhoumeh, Managing Director, Ready Networks LLC
Stuart Baum, President, LargerPond Marketing
Laurel Bellows, Founder, The Bellows Law Group
Bob Berland, President & CEO, Berland Communications
Brian P. Brammeier, CEO, HIGHERGROUND Managed Services
Don Bora, Cofounder and Principal of Technology, Eight Bit Studios
Fletcher Boyle, Chicagoland Smile Group
Steve Brown, President, Stratego Partners
Richard Carden, Managing Partner, MBHB
Mason Cole, Founding Partner, Cole Sadkin LLC
Melissa Costello, Founder, MELISSACOSTELLO.COM
Bejan Douraghy, Founder & CEO, Artisan Talent
Ric Edinberg, Executive Director, INSITUM US
Jonathan Eisler, Managing Director, Perspectives Organizational Consulting Group, President, Association of Consultants to Nonprofits
Morrie Elstein, VP, Cendrowski Corporate Advisors
Eric Feldman, Founder, Eric Feldman & Associates, P.C.
Jon Fieldman, Esq., Fieldman Law Group, P.C.
Dr. Gloria Garguilo, Owner, Garguilo Periodontics
Chris Gersch, Founder & CEO, Verde Solutions
Matt Gibbs, Founder, UPshow
Adam Glazer, Managing Partner, SFNR
Grant Gochnauer, Co-Founder & CTO, Vodori Inc
Rick Gray, CEO, Talent Rise
Mark Grazman, Strategic Business Development Consultant, Booksy
Michael Haeberle, The Patterson Law Firm
Adam Hirsen, CEO, UPshow
John Paul Hills, Hills Capital Management & Wintrust Commercial Banking
Rachel Horvath, COO, Move-tastic!
Pete Horvath, Founder, Move-tastic!
Robert Jacobi, President, Arc Technology Group
Ryan Jacobs, Founder, CloudSpotter
Andre Janus, CEO, Cristaux International
Leonard Kang, VP Solutions-Midwest People Driven Solutions
Jefferey Ogden Katz, The Patterson Law Firm
Lina Khalil, Co-Owner, Fetch PR
Richard Kincaid, Founder, Sagegreenlife
Josh Kritzler, President & Co-Founder, PCGSportsDesk
Stephen I. Lane, Law Offices of Lane & Lane, LLC
Michael LaVista, CEO, Caxy Interactive
Eddie Lou, Executive Chairman & Co-Founder, Shiftgig
David Macknin, President & CEO, Alper Services
Michael Maddock, CEO & Founding Partner, Maddock Douglas
Mark Meyer, CEO, ICI Staffing
Chris Miller, Managing Partner, Kelley Kronenberg
Michael Millhouse, President, BridgePoint Technologies
Bryan Minier, Managing Partner, Lathrop Gage
Heather Morrison, CEO, MAPS
Tyler Mose, CEO, Indirap Productions
Mark Nadolski, Founder, VES Creative
Scott Nicholson, Partner, KindredOnore,LLC
Dave Norris, Chief Operating Officer, RedRidge Finance Group
CJ Parrilli, CFO, Cristaux International
Adriano Pedrelli, President & CEO, ImpactPolymer LLC
Phil Penton, CEO, Xcite Advertising
Daniel Porcaro, CEO, Porcaro Stolarek Mete Partners LLC
PJ Rashid, Managing Partner, Popskull
Paul Raya, Cook Alex
Ron Repking, Founding Partner, Sriracha Partners
Gregg Salkovitch, Managing Partner, Right Choice Resources
Tim Schumm, Managing Partner, Carver Peterson Consulting
Aalap Shah, Partner & Co-Founder, SoMe Connect
Sangeet Shah, Owner, Midwest Express Clinics
Mike Shannon, Co-Founder & CEO, Packback
Adam Silverman, Managing Partner, Adelman & Gettleman
Josh Strauss, Pekin Singer Strauss
Dave Stolarek, COO, Porcaro Stolarek Mete Partners LLC
Robert Szafarowicz, VP of Buzz, Cristaux International
Bob Tangredi, CEO, PHSI
Jim Vaselopulos, Founder & CEO, Rafti Advisors
Ivan Vislovskiy, Co-Founder and CEO, Comrade Web Agency
Anna Maria Viti-Welch, President, The Viti Companies
Jeremy Waitzman, Partner, Sugar Felsenthal Grais & Hammer LLP
Tony Wilkins, Mentor, Junto Institute, CE), AEWilkins Holdings
Bryan Wilson, Kogut & Wilson LLC
Will Wright, Managing Partner,Dunmore Capital Partners