Buying Versus Leasing Space: What's Best for You?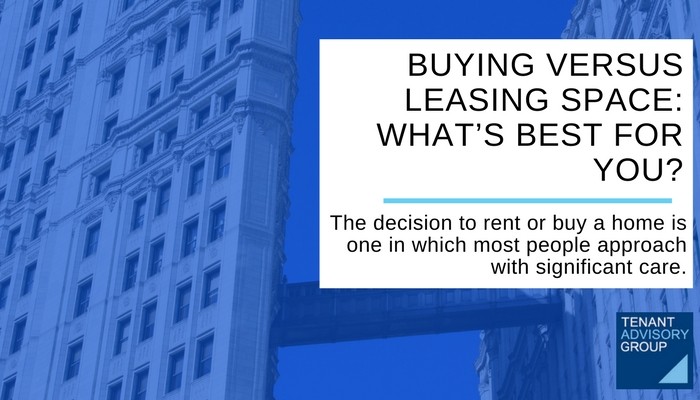 The decision to rent or buy a home is one in which most people approach with significant care. It's no different when evaluating whether to buy or lease with regards to commercial property.
This is a critical decision in a company's development and requires extensive analysis. The Tenant Advisory Group, LLC (TAG) has significant experience helping a diverse group of companies navigate this decision.
There are several important factors to keep in mind when addressing the question of leasing vs. buying commercial space. On the top level, a company will want to consider the state of their industry, their own firm' growth projections, and the amount of capital available.
The results of this high level analysis may make the choice of buying vs. leasing relatively easy. However, if the choice isn't clear after this review there are additional factors that will then be considered.
TAG can assist you in this process and ultimately help your firm identify the right choice for your business.
In the meantime, we have outlined some of most important advantages and disadvantages of each choice and can provide you with additional information at your request.
Leasing
Advantages:
– Flexibility (amount of space, duration of lease)
– Reduced risk (no long-term responsibility)
– Reduced responsibility (building owner worries about property)
– Easy exist strategy (can relocate as soon as lease expires)
– Security deposit (not paying buy out so saves you money)
Disadvantages
– You are not building equity
– It is not "your" space as it belongs to the landlord
– You are dependent on someone else to fix things, improve things, or deteremin if you can sublease or not
Buying
Advantages:
– Long-term investment
– Building equity
– Interest is tax-deductible
– Stability in business location
– Possible appreciation (only works for long term)
– Leasing unoccupied space (if your not occupying the space you bought, could make a profit leasing it)
Disadvantages:
– Capital intensive
– Finite allotment of space
– Possible depreciation
– Difficult exist strategy