Executive Networking With Tenant Advisory Group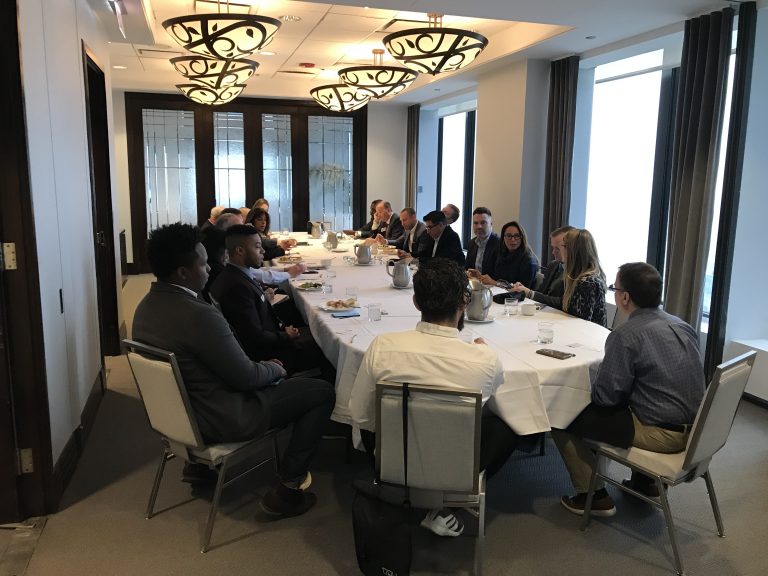 Every month, Tenant Advisory Group hosts an Executives Event to provide an opportunity for Chicago business leaders to build new, meaningful connections and discuss topics relevant to running a business.
During January's Executives Luncheon, attendees were prompted with the question: "How do you get it all done? What advice or tips do you have for staying ahead of the game?"
Here are a few of the lessons shared in response:
Rick Jordan, CEO of ReachOut Technology – 1. Accept where you're at so you can go towards the future. 2. Lose negative people. 3. Live healthy. 4. Integrate. No such thing as work life balance. Have one life and integrate it all. Bring kids everywhere. 5. No back up plan. Either go all in or don't do it. If you don't love what you do, change it up.
Stu Grubbs, CEO of Lightstream – Focus on doing the 3 things a CEO should be doing: 1. Setting vision. 2. Finding great people. 3. Not running out of money. Then get out of the way of the people you've hired and trained. Time blocking is big. Bullet drilling – methodology for writing a to-do list.
John Basso, Sr. Partner at Jesser, Ravid, Jason, Basso & Farber – I love to-do lists and will update at the end of every day. Don't allow yourself to be interrupted.
GUEST LIST:
Brian Bar – Founder & CEO at Victory Lap
Anand Christopher – Managing Partner at Claremont Hudson
Rick Jordan – CEO of ReachOut Technology
Michael Reddy – President, Digital Authority Partners
David Wentz- Managing Partner of Brooks, Tarulis, Schaffer & Tibble, LLC
Chris Gandy – Founder of Midwest Legacy Group
Stu Grubbs – CEO of Lightstream
Larry Levy – President, Founder & CFO, CFO Options Inc.
Brian Collins – Managing Partner of Pedersen & Houpt
Dan Porcaro – Managing Partner of PSM
Steve Foster – President of Beyer Insurance
Bill Pragalz – Partner at 360 Benefits LLC
Margaret Mueller – President & CEO at Executives Club of Chicago
John Basso – Sr. Partner at Jesser, Ravid, Jason, Basso & Farber
Jeff Perelman – CEO of Sterling Partners
Morrie Elstien – Founder & President of MorrieCONNECT
Erryn Cobb – CEO of Fetch IMC
Andrew Sannes – Managing Director of XLCS Partners
Jeannie Gallucci – Managing Partner Tanzilo Gallucci
Bill Himmelstein – Founder & CEO of Tenant Advisory Group
Evan Galvin – CEO XL Broadband & CEO of Ping Marketing
Jason McAllister – CEO Paragon Tech Inc and Director Frankfort Chamber of Commerce
Martha Tovias – Owner of Tovias Title & Co
Paola Meinzer – Director of Marketing at MS & Co
Deb Daly – District Sales Manager at ADP
Jonathan Rothstein – Senior Commercial Relationship Manager at Fifth Third Bank