Executive Networking With Tenant Advisory Group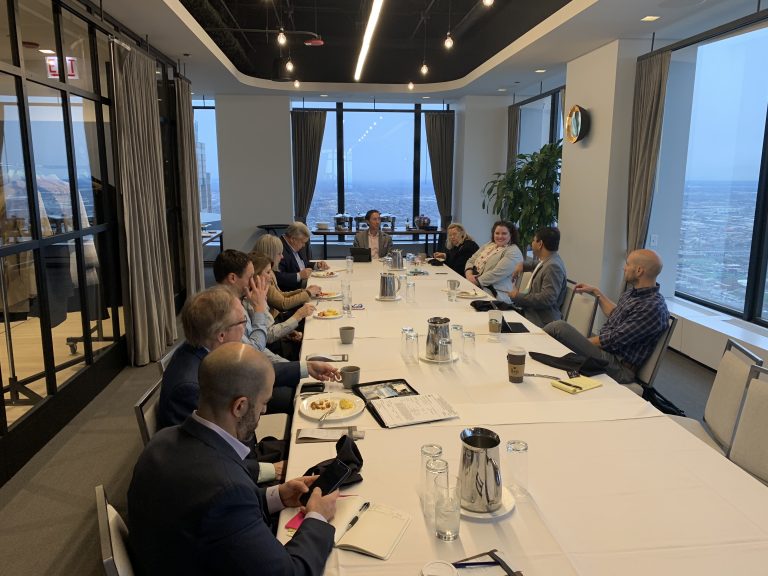 Every month, Tenant Advisory Group hosts an Executives Breakfast to provide an opportunity for Chicago business leaders to build new, meaningful connections and discuss topics relevant to running a business.
During one of April's Executives Breakfasts, attendees were prompted with the question, "What are your tips for managing time?" Here are a few of the lessons shared in response:
Bill Himmelstein, Founder & CEO, Tenant Advisory Group – Prioritize what's important, and schedule everything you can. Delegate what you're not good at to focus on what you enjoy most and are best at.
Vickie Rock, Principal & CS/RPR, Victoria Legal + Corporate Services – Schedule what's important. Utilize time blocking.
Trisha Daho, Founder & CEO, Empowered – 1. Be fully engaged in whatever you are doing at the moment. 2. Only check your email 3x a day max. 3. Time blocking- get 3 blocks of 50 minutes a day to work on things that matter most. Create absolute boundaries and walls around those increments.
Pradeep Kandimalder, CIO, Cvent – Focus on a mission and vision for a day. Group things to organize your email.
Carl Utz, Director of Sales & Sr. Account Manager, Andromeda Technology – You can't do everything yourself.  You need to delegate to people who can do the job better.
Brian Black, Relationship Development Manager, Tenant Advisory Group – Everyone is busy but are we getting things done? Time batching has been huge. Be intentional on how you want to feel at the end of the day.
Dr. Ari Levy, Founder & CEO, Shift – What are the metrics that matter? Personally and professionally. How are you spending your energy? Are you showing up for what matters? That which you measure improves. Your mind and body seeks to create patterns. Be ruthless about your weaknesses and be open to asking for help. Learn how to embed the right habits that get the right results.
Craig Evans, President, Precision Healthcare Consulting- Know when to get away from work to recharge your batteries.
Greg Topel, CBO, Tanvas – Every moment is precious. In the first stages of being an entrepreneur I was a servant to everyone. Ask yourself: Is this something I can do later — do I need to do it right now? Fold that into priorities of what absolutely needs to get done today.
Cathy Jama, Executive Vice President, Tenant Advisory Group – You need me time. For me, Friday is admin day.  It's important to look ahead and plan ahead, so I minimize how often I look at emails.
Terry Hush, CEO, Roji Health Intelligence- I'm a huge delegator.  I used to do it all myself and then had an awakening when writing the company blog.  I went from scheduling days and goals on spreadsheets and became the email deletion queen. I cultivate leadership rather than managing.
Paul Detlefs, President and EOS Implementer, The Prestwick Group, Ltd. – I do not allow technology in sessions. You have to control the technology rather than it controlling you. Also, have a quarterly or at least annual planning pulse-  for your business, departments and personally for your long term vision and plans. Weekly planning discipline is critical. Get an assistant so you can elevate yourself to your unique abilities that you enjoy doing and are good at.
TAG Executives Breakfast Guest List
Paul Detlefs, President and EOS Implementer, The Prestwick Group, Ltd.
Terry Hush, CEO, Roji Health Intelligence
Cathy Jama, Executive Vice President, Tenant Advisory Group
Greg Topel, CBO, Tanvas
Craig Evans, President, Precision Healthcare Consulting
Dr. Ari Levy, Founder & CEO, Shift
Brian Black, Relationship Development Manager, Tenant Advisory Group
Carl Utz, Director of Sales & Sr. Account Manager, Andromeda Technology
Pradeep Kandimalder, CIO, Cvent
Trisha Daho, Founder & CEO, Empowered
Vickie Rock, Principal & CS/RPR, Victoria Legal + Corporate Services
Bill Himmelstein, Founder & CEO, Tenant Advisory Group