Executive Networking with Tenant Advisory Group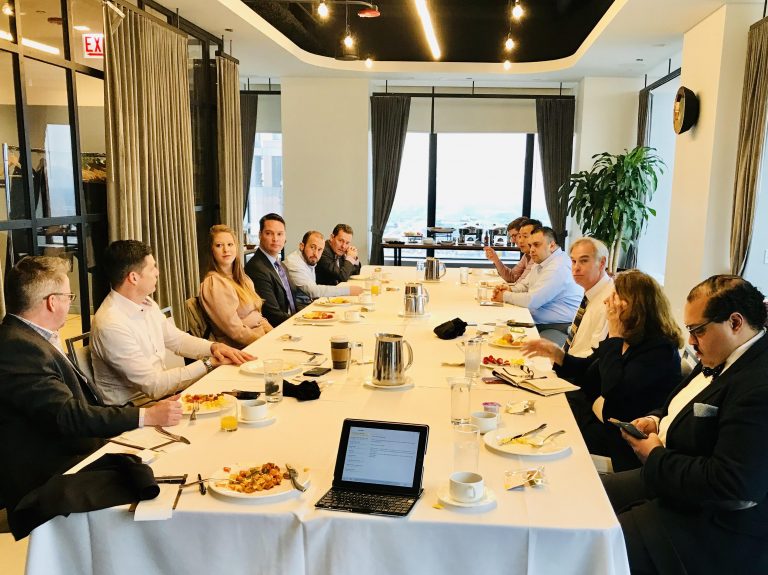 Every month, Tenant Advisory Group hosts an Executives Bruncheon to provide an opportunity for Chicago business leaders to build new, meaningful connections and discuss topics relevant to running a business.
During May's Executives Bruncheon, attendees were prompted with two questions: "What is the best thing that's happened to you in the last few weeks both personally and professionally?" as well as the "Best advice you've gotten?" Here are a few of the lessons shared in response:
Michael Alvarado, Partner, Davis Friedman- I brought over three new capital partners which will sustain the firm. I attended my first college visit with daughter. My son who is seven also did a lemonade stand, and made $20. Now my son wants to make $80 to give everyone in the family $20.
Advice: Drop everything for a new client. Focus on caring for the client.
Alex Newmann, Co-Founder & CEO, FinanceFuel- I closed some VC money, my team is growing, and things are moving forward. Half of business is a mental game. You have to focus on doing the right thing. I also get to be around my family more.
Advice: Learn how to sell and you'll never go hungry.
Donncha Carroll, Partner, Axiom Consulting Partners- I built a product development team around data analytics. I'm also going to Ireland to visit family and friends.
Advice: Better to be approximately right than accurately wrong.
Joe Blandford, President, Greatline Communications- The economy is the good news which means I'm making money. My youngest daughter also wants to rejoin the business.
Advice: You can get what you want in life if you can help enough people get what they want.
GUEST LIST:
Colin Hogan, Managing Partner, Demo Duck
Konstantin Nedyalkov, President, Tiamat
Bob Domenz, CEO, Avenue Inc
Greg Maddox, Partner, Cultivate Advisors
Sam Pagan, Founder & CEO, Fundingdocs
Michael Alvarado, Partner, Davis Friedman
Len Llaguno, Founder & Managing Partner, KYROS Insights
Joe Blandford, President, Greatline Communications
Alex Newmann, Co-Founder & CEO, FinanceFuel
Donncha Carroll, Partner, Axiom Consulting Partners
Page Ciesemier, CFO, Gage Hospitality Group
Taylor Gaines, CEO, Social Gaines
Maverick Eguia, Co-Founder, Veme.ly
Glenn Hafner, Managing Partner, HD Investment Group
Tarik Khribech, Founder & CEO, ChoreRelief