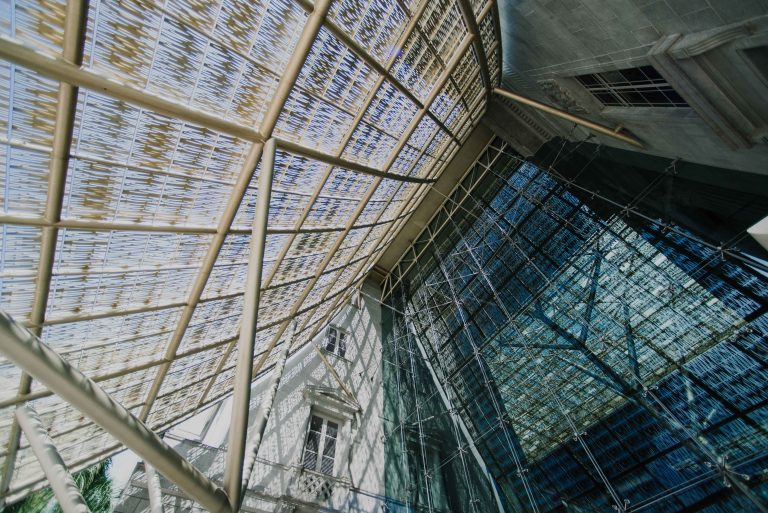 When leasing a new office space, it's easy to look at properties that already exist, but there is an entire market of new or partially built developments that have potential to be amazing office space, if you plan accordingly. In order to navigate leasing in a new development, follow our steps for success.
Understand When Delivery Will Be and Plan Accordingly
Delivery dates can be a moving target and it's important to nail down a date that's as precise as possible. If you don't have a precise date, you could end up without an office space, which could be detrimental to business. Always have a backup sublease, option to go month-to-month in your current space, or potential space on deck to ensure you have a place to continue business.
Make Sure to Have Contingencies in Place
This is important just in case things aren't ready, aren't working or weren't constructed properly. Make sure your new landlord will handle a punch list of items for completion. As a tenant, it's vital to work with a broker that can review and request contingencies in your lease to protect your rights.
Make Sure Your Budget Can Afford It
Typically new office spaces are more expensive than existing space. That's why it's important to understand all of the costs that are associated with leasing in a new development. From calculating costs for a potential sublease to taking on the extra costs of moving into a new development, make sure to have additional money tucked away in case the leasing process doesn't go 100% as planned.
Ensure You Can Get Growth Rights
As your company grows, your office space will need to follow suit. This is where growth rights come in. Finding this extra space can be especially tough for smaller businesses in new developments, but working with an experienced broker can ensure that your company will be able to expand when the time comes.
Make Sure the Building has All COOs
Nothing can derail a new office move-in than the building not being up to code. Save you and your team the hassle of a delayed move-in date, and make it a point to ask your landlord to show you the necessary certifications of occupancy.
Navigating leasing in a new development can be a great opportunity for business owners as long as the proper research and precautionary measures are taken. The best way to ensure a successful lease is by working with a qualified broker to make the leasing process as smooth as possible.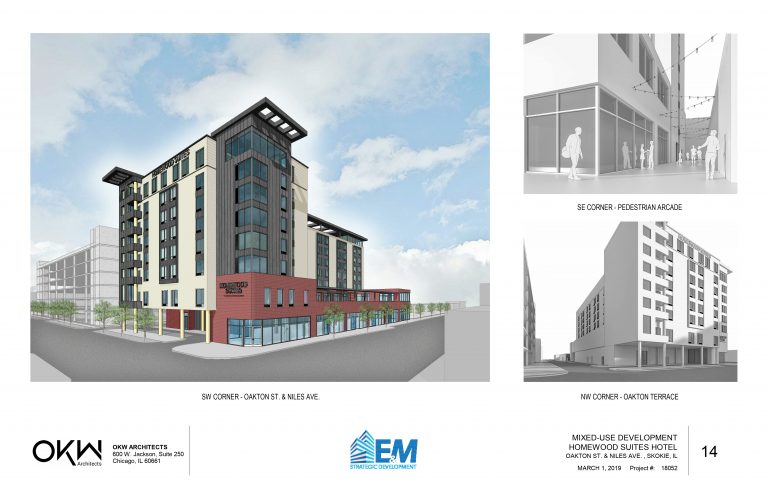 Description: Here is an opportunity to lease in the base of the new Homewood Suites Hotel in Skokie on the prominent corner of Oakton & Niles. The space is divisible to possibly 2 – ~5,000sf restaurants and a 2,130 retail use. It's adjacent to a new residential development site with plans to build 92 loft style dwellings.
Expected delivery date: Summer/Fall 2020
Size: 12,150sf
Demographics
2018 total Population:
1 mile – 25,796
3 mile – 159,591
5 mile – 640,941
Median HH income:
1 mile – $63k
3 mile – $78k
5 mile – $69k
Average age:
1 mile – 41
3 mile – 42
5 mile – 39
Traffic: between 9,000 – 16,000 cars a day
Location: Oakton & Niles Avenue, Skokie, IL 60077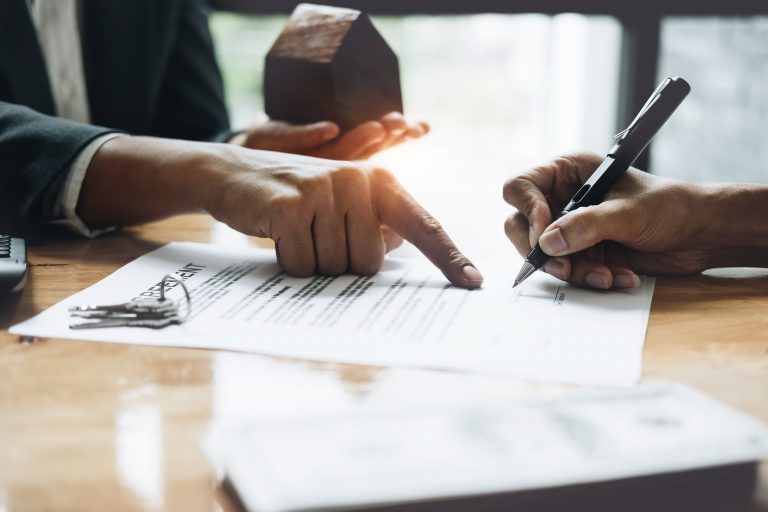 Up-and-coming areas can be a scary concept for some business owners. One day you're paying low rent in a semi-popular part of town, then a few years pass and the area is booming, people and other businesses are flocking over and rent is skyrocketing. However, you don't have to pay a fortune in rent or change locations if you take the right precautions. Here's how you can hold onto your prime real estate at a fair rate.
Stipulate a Rental Rate
When negotiating the renewal clause in a lease, oftentimes there is a fair market value clause that leaves negotiation of rental rates open for when an area grows in popularity. But fair market value leaves too much freedom for the landlord to hike up the rates to match the new standard, which could end up being well above your budget. One benefit to using a good broker is that they know to negotiate for a specific rental rate based upon a finite escalation instead of relying on a fair market value agreement. This ensures that the you can afford the future rental rates and also reflects the increase of growth in the area.
Negotiate a Right to Terminate
The termination option is also an extremely valuable piece of negotiation leverage. A landlord will not offer this unsolicited. For leases longer than five years, it is very helpful to have a termination right. By negotiating this into the lease, should rates dip below market value, then you will be able to exercise the right to terminate and move or use this as leverage to reduce your rate. Conversely, if rents have skyrocketed, you can utilize the leverage of the termination right to extend your lease and keep your rates below market for the foreseeable future.
Sublease Your Space
Another option you can consider when the rent goes up is to sublease. As always, any business leasing a space should work with a broker to ensure that a sublease clause is included in the lease. From there, if the ability to sublease is allowed, you can move elsewhere to pay a lower rate while subleasing your original space to help offset the overall costs. This is especially beneficial if you are able to reduce your square footage as well.   
Maintaining your presence in a popular area all comes down to your lease. Working with a reliable broker to negotiate the correct terms can take the stress out of rising market rates and give you peace of mind about staying in your space.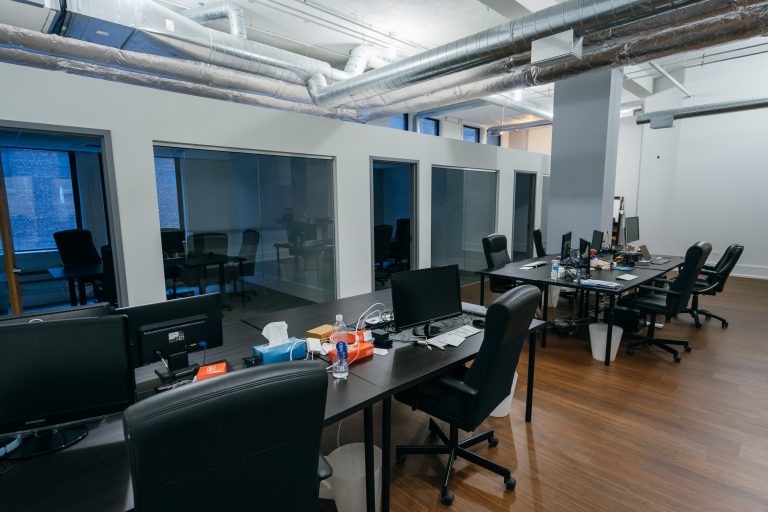 Description: Here is an opportunity to sublease a fully-furnished property in Chicago's Loop. This space is a newly built loft-style office with exposed ceilings. There is a large collaborative kitchen area, 11 workstations, 3 large offices/breakout rooms, 2 small offices/phone rooms, and a lounge area.
The sublease is move-in-ready and available immediately. The least is set to expire on April 30th, 2025.
Size:2,438 SF
Cost:  $21.50/sf
Location: 218 S Wabash, suite 280, Chicago, IL 60604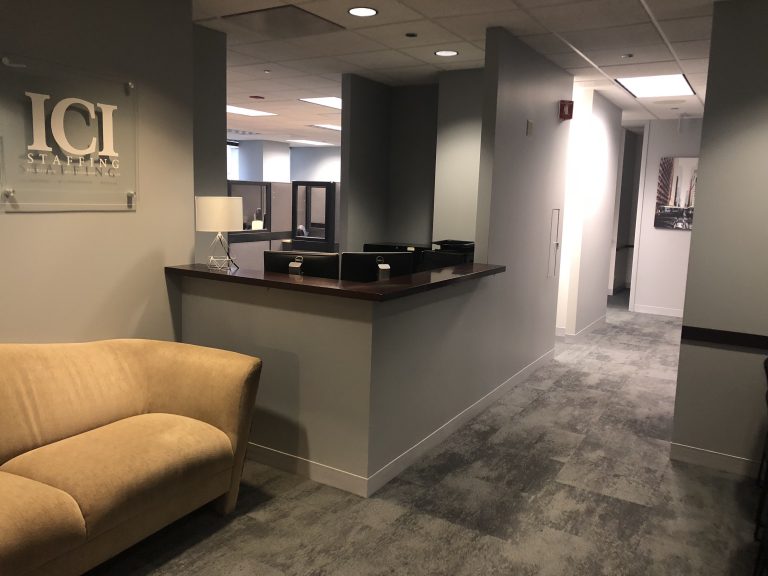 Description: Here is an opportunity to sublease a fully-furnished property in the heart of Chicago's Loop. The office has a great view of downtown, new corridors and is a class-A building in a business-central location. The space features two main offices, three breakout rooms (which can be used as smaller offices), one conference room, a break room, 16 cubicles, a reception desk and waiting area.
The sublease if available now with a term ending December 31, 2026.
Size: 3,011 SF
Cost: $32/SF 
Location: 20 N. Clark, Suite 2620, Chicago, IL 60602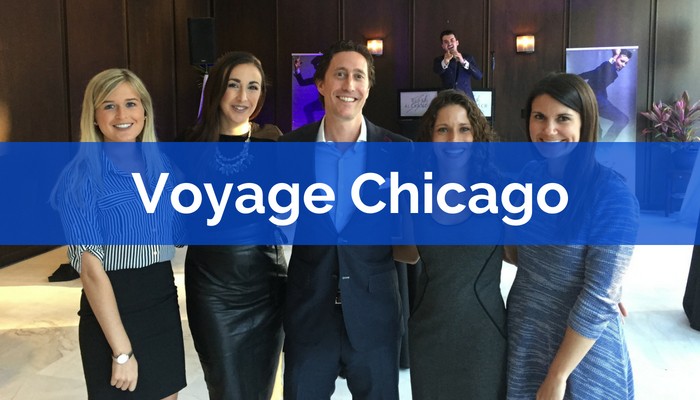 Voyage Chicago reached out to Bill Himmelstein to dive deep into the history of how Tenant Advisory Group began, and the foundation it was built upon. Click here to read more.
The South Loop, River West and West Loop each have taken their turn as being Chicago's "it" neighborhood. Now it's time to turn our eyes towards the Clybourn Corridor, the thin strip of land on the western edge of Lincoln Park between Clybourn Ave. and the Chicago River. This area already serves as a main shopping destination for Northsiders, and the recent addition of Newcity is part of a continuing trend in this area. There are many developments currently in progress with many more slated to come online for the near- and long-term future.
High Demand
The Clybourn Corridor is currently exploding with new developments planned and in progress. Despite the rising vacancy rates from the influx of new buildings, retail rent has remained steady and even reached higher levels in recent years. This stretch of well-located land is continuing to attract businesses, both large and small, and they are not shying away from the increasing rents. With retail, professional and residential buildings on the dockets, the Clybourn Corridor has the attention of the city.
Room to Grow
In the last five years, over two million square feet of commercial real estate space has come online with over 1,000 new residential units. Even with the high amount of proposals, there is plenty of room for development and redevelopment in the Clybourn Corridor. Most famously, the Finkl & Sons steel plant is one of the headlining redevelopment projects. Sterling Bay has recently unveiled their vision for the redeveloped Finkl & Sons steel plant which includes a mixture of office, retail and residential buildings to be built on over 30 acres of riverfront property.
A Fresh Start
One driving factor behind the surging demand to reshape the Clybourn Corridor is its ability to act as a blank canvas. Large developers are purchasing old properties with dated buildings and redeveloping these sprawling sites into efficient retail, office and residential buildings. Its extreme demand is also fueled by the dense nearby population and affluent neighborhoods near the Clybourn Corridor, which attracts shoppers and businesses. Additionally, Metra plans to update their Clybourn train station to match the rapid updates the area is receiving. The proposals to revamp the community expects to draw a large, new employment base and add thousands of residents, all creating a positive influence on Chicago's economy.
Chicago's real estate industry continues to grow as a plethora of new buildings come online each year. The city's lively entertainment scene, attractive amenities and its role as a booming international business hub make it a highly sought after location for corporations, and the employees who work for them. It will be exciting to watch the plans for the Clybourn Corridor unfold into a redeveloped, bustling stretch of Chicago.
We are proud to announce our newest partnership with Dan Porcaro of PSM Partners. This exclusive partnership enables us to offer you premium phone and data brokerages services, as well as cloud services. Through this new affiliation, TAG will be able to provide even more services and solutions to help grow your business. Click here to learn more about Dan Porcaro.
About PSM Partners
Porcaro Stolarek Mete Partners, LLC (PSM) is a business and technology consultancy located in downtown Chicago. They focus their business strategy efforts on strategy development and strategy execution for firms under 500 million in revenue. Their technology consulting offerings center around getting small and mid-sized businesses to the cloud, managed services and IT strategy consulting. PSM also has a carrier services group that brokers voice and data services for their clients.