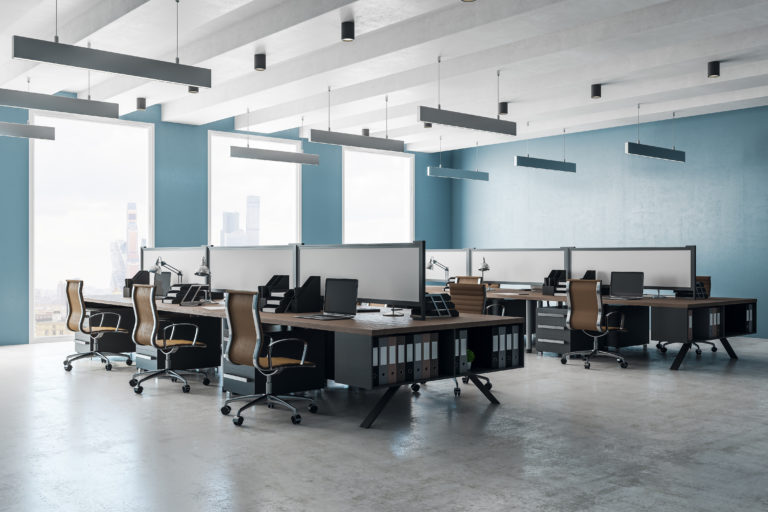 Relocating and choosing a new office space is a lot of work, no matter the size of your company. However, it also provides an exciting opportunity to start fresh in a new space. Carefully consider the following points to ensure you get the most out of your move.
Location
Select a location that works for both clients and employees. You want a space which clients can find easily and employees can comfortably commute to – perhaps close to public transportation or with a parking lot if many clients and employees will drive to reach you. Consider where your key employees live and whether the space is convenient for them.
Cost
Find a space that doesn't stretch your finances too thin. Make sure to calculate the full cost of the space and consider any hidden costs carefully to make sure nothing sneaks up on you (parking, utilities, any necessary construction, taxes, phone & data set up, janitorial, new furniture, etc).
Physical Space
Look for a space that will allow room for growth. Opt for a space that could potentially accommodate a growing team or evolve with your business. Also, check that any new space has sufficient area to allow for breaks and group or client meetings.
Infrastructure
As you evaluate your options, look for a space with easy-to-use and secure IT systems, particularly if you need a reliable internet connection for your business to function properly. Understand and test the current technological infrastructure of each space you consider to ensure it can accommodate your business needs or if a potentially expensive build-out may be required.
Employee Needs  
Think about what amenities you'd like your new space to offer employees. Sunshine can be a great easy perk as access to natural light can affect mood, energy levels and alertness. See if your new location has space for a stocked beverage center or coffee bar. Also, consider investing in employees' health with an on-site fitness center or dedicated wellness room.
Where you work matters. That's why we've partnered with an online software platform to make it easy to search for spaces that are specific to your needs. All you need to do is enter your information here, and you will be given access to a database of office space listings complete with virtual tours, floor plans and all-in monthly prices. Finding the space of your dreams is only aclick away.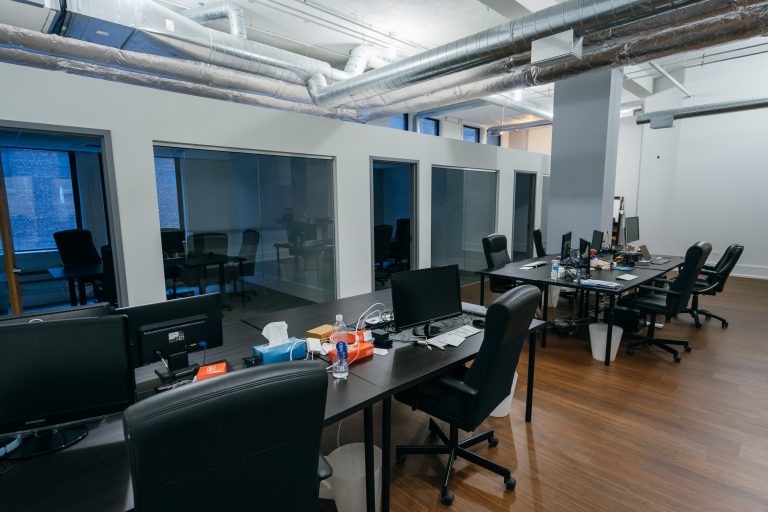 Description: Here is an opportunity to sublease a fully-furnished property in Chicago's Loop. This space is a newly built loft-style office with exposed ceilings. There is a large collaborative kitchen area, 11 workstations, 3 large offices/breakout rooms, 2 small offices/phone rooms, and a lounge area.
The sublease is move-in-ready and available immediately. The least is set to expire on April 30th, 2025.
Size:2,438 SF
Cost:  $21.50/sf
Location: 218 S Wabash, suite 280, Chicago, IL 60604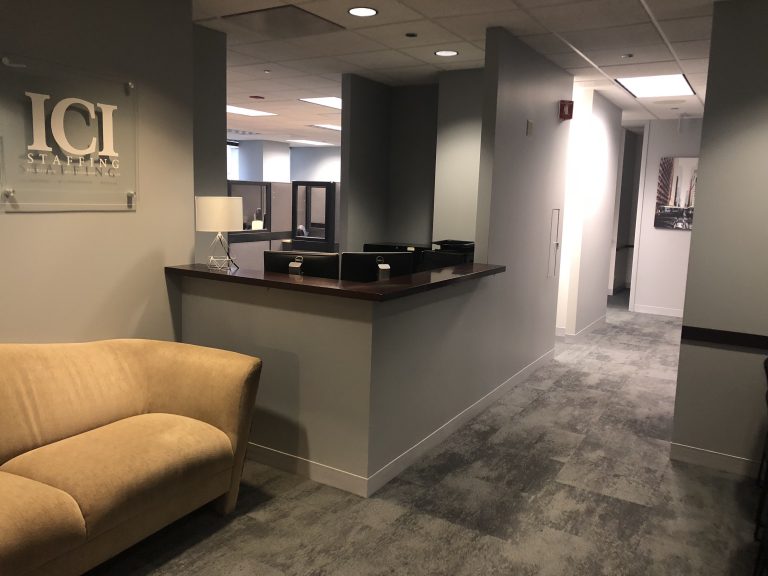 Description: Here is an opportunity to sublease a fully-furnished property in the heart of Chicago's Loop. The office has a great view of downtown, new corridors and is a class-A building in a business-central location. The space features two main offices, three breakout rooms (which can be used as smaller offices), one conference room, a break room, 16 cubicles, a reception desk and waiting area.
The sublease if available now with a term ending December 31, 2026.
Size: 3,011 SF
Cost: $32/SF 
Location: 20 N. Clark, Suite 2620, Chicago, IL 60602
Co-working workspaces are becoming the new norm for up-and-coming businesses, offering the creature comforts of a big corporation – high-tech workstations, coffee supplies, conference rooms – at a price startups can afford. However, just because a co-working space seems to have it all doesn't mean there isn't room for negotiations or amendments to your lease.
Bill Himmelstein, founder and CEO of Tenant Advisory Group, has put together a few crucial components to consider before signing on the dotted line:
Amenities
Exercise ball chairs and trendy lighting are fantastic touches, but remember to factor in all aspects of your business into the monthly cost. Does it include internet access? Phone plans? Access to communal coffee and food? These amenities can be used as bargaining chips in negotiating with the landlord. Understanding what's included in your leasing package and what's additional is key to being budget savvy.
Flexible Terms
One key advantage to renting a co-working space is the option of a short-term lease — three- and six-month terms and even month-to-month payments can be negotiated. (Free Range in Wicker Park offers flexible 10-day passes.) This can be especially appealing to freelancers who want a stable work environment without being tied down to a long lease.
Unused Spaces
Co-working options can be found anywhere, not just with large companies like WeWork. Chicago's many converted warehouses and vintage office buildings are full of carved out communal spaces with a plethora of opportunity. Since leases in these leasing packages aren't usually as structured, having an expert on-hand can save some of your company's valuable funds.
For more information about how Tenant Advisory Group can help you negotiate your co-working space lease, contact us today.
Businesses today are expanding faster than ever. As a business owner, the realization that you soon won't have the space to store your products or even have any place to put your employees, (like this company just experienced), is terrifying. Operating in a space that perfectly fit your needs five years ago could now be causing all sorts of headaches, and even be affecting the quality of your business.
Imagine how your business could flourish if you had a hallway designed to work with the needs of your sales team. Or, a space where you didn't have to use the storage closet as the conference room. The good news is that these types of spaces exist – and they exist in the form of a build-to-suit office space.
If you've decided your next move is to invest in a custom office build out, I'd love to offer a few tips on how you can get there and get the most value for your dollar:
Assess long-term needs. Don't just focus on your short term needs. It's perfectly fine to consider your company's growth plans – just be realistic about those numbers. Spend some time and think about how your business needs are changing.
It all starts with a good conversation. After you've spent time reviewing your business goals and needs, the next step is to meet with a space planner and an architect. You'll work with them to imagine what your ideal office space looks like. Does it have a full kitchen complete with a shiny copper espresso machine? Or, does it have sound-proof conference rooms complete with in-wall projectors? While these ideas might sound lavish, there's a certain allure around creating an office space that is exactly suited to fit your business' needs. And the build-out starts with a good conversation. While you'll collaborate on ideas, tell them how you want the layout to look and how the office should flow.
Consult specialists. Once you have the bones in place, think about the look and feel that will resonate with your customers. Your company's image and personality should be reflected in your office space. Build-to-suit is uniquely fitted to display your brand in the colors, finishes, and architectural design of your space. (P.S. If you have a family member or friend who swears they were an interior designer in a past life, you might want to think about tapping into their knowledge when you're deciding on color palettes and furniture.)
Confirm a plan of action. As the saying goes: "A goal without a plan is just a wish." Getting the most value for your dollar starts with the plan. Find out who will collaborate with who. This next step is complicated and time consuming – as it requires the tenant to send out request for proposals to various building landlords, then once the right space is selected, lease negotiations begin. Because the build-to-suit lease binds the landlord and tenant for an extended period of time, having as much detail as possible should be included in the lease documents.
Build-to-suit office spaces aren't for everyone – or for every company. It's a serious long-term commitment. Before moving forward, consider all your options and seek the help of a trusted advisor in your area for guidance.
Not quite ready to build out a workplace of your dreams? You may want to read our post on how you can lease a new space, smarter.
Over the last few years of my career, I've been asked all types of questions when it comes to leasing office space. For people interested in leasing property, some questions I commonly hear are things like: How far in advance should I be looking for a new space? What are the benefits of starting early? How can I grow my office space to fit the needs of my company?
Layout, location and quality of space – all make an impact on your business. I'm a firm believer in that the planning phase doesn't stop when you sign the lease papers – in good businesses it's constantly occurring. As you begin your new office space search, you may want to consider a few of these ideas:
Negotiate early on for flexibility as your business needs change. One of my favorite parts of real estate planning, is the flexibility. Sometimes you have to be ruthless and negotiate tons of things within the lease. Anything from the term length, to utilities, to upgrades should all be on the table prior to signing a contract.
Think about what you need now… And evaluate what you'll need later. It's perfectly fine to consider your company's growth plans – just be realistic about those numbers. When you're at the negotiation table, be confident in the size space that will currently fit your business. Don't base your leasing rights and fees based on wild predictions. A helpful way to control costs is to take what you need and negotiate for the rights to additional space if and when you need it – later.
Consider the interests or needs of your employees. Before signing any agreements, get feedback from your employees. Whether it's in-person, or anonymous, their feedback matters. If the majority of them commute in from one side of town, it may be worthwhile to look for office space closer to them. Happy employees make successful companies, and if you're able to cut down commute times, you will raise office morale.
Your business extends outside of the building's walls. Think of your surroundings as an extension of your business: One thing some clients don't focus enough on is the location. Most companies want to have a 50th story high-rise downtown, but be realistic about it. If many of your clients are in the suburbs, then you may want to consider an area closer to a major highway.
Technology' impact on your organization. As we've mentioned in an earlier blog post, the "work from home" trend is growing – in fact, 2014 boasted a 26 percent increase in open remote job postings over the year. If your company is a proponent of working from home on certain days, then it may not make sense to have a big office. With growing technology to enhance remote work, you will definitely have to take this into consideration. Additionally, look for green buildings who promote energy efficiency. Buildings that have better ventilation can cut electric costs by a large margin.
Be present, act now. Procrastinating on making future decisions is a very bad idea. Setting growth expectations should be at the forefront when looking to lease a place. As mentioned before, look at your current space usage. From there, set a 5 year plan as to where you want to be. If you're comfortable moving around a couple of times, then this may not be as important to you. However, if you're a bigger company and in the tech industry, then moving is an enormous pain.
The vision and plan of the owner determines everything. As you enter into new lease negotiations, always discuss with a trusted broker or advisor in your area to determine the right property for your needs.
P.S. There are four reasons why you should re-consider your traditional office space. Find out what they are in our previous post.
For many Millennials, the word "office" drums up visions of 1970s wood-paneled walls, fluorescent lighting and an endless maze of cubicles. While we're just starting to understand what lies in the future of the "office," the truth is, it's changing quickly. If you're thinking about leasing a property or a new office space, you may want to pay attention to a few new office space trends:
1. Working Remotely. The "work from home" trend is growing- in fact, 2014 boasted a 26 percent increase in open remote job postings over the year. Mobile and desktop apps like Slack or Asana make it so easy to communicate with team members whether sitting at a desk or poolside in Cabo. If you're investing in property keep this trend in mind – with more employees working away from the office, it means companies can shave off valuable square footage of used office space. Just be aware that there can be cons to working remotely – brainstorming sessions may be harder to come by, and training new employees can always become an obstacle without face-to-face interaction. Always take the time and evaluate the space you need.
2. Everybody' working for the weekend. Or are they? The traditional 9-to-5 is becoming less of the standard. Like it or not, work happens whenever, wherever. With smartphones in the hands of thousands of workers, it's almost impossible to be unavailable. I'm not sure I can name a single commercial real estate agent who works a typical 9-to-5 job – when we're not in the office making calls or brokering deals, we're out at client dinners, showing properties, attending networking events – all which extend past 5pm and into the weekend. If you plan on having people coming in and going out at odd hours, you may want to consider buildings or spaces with 24/7 access, security and amenities.
3. Redefining "working together." According to an INMAN 2012 poll, "92 percent of successful agents are in their brick-and-mortar offices fewer than 15 hours per month." That' a lot of wasted space. An interesting trend, especially for the commercial real estate markets (and similar) is a shift into co-working spaces. Incubators have started to house all types of startups and freelancers in one space. Benefits of these spaces include working alongside similar like-minded individuals, entrepreneurs – all from different disciplines (agents, brokers, lenders) – and in an environment that promotes working together and encouraging each other to work their best. If you are a small team or a freelancer, you may want to consider setting up shop at your local co-working space to save space and money.
4. New amenities. Parking spots, flex-time and"…bike racks? New needs are emerging, and real estate is rushing to meet them. LEED efficient building standards are more about environmental management – buildings are being designed specifically to encourage healthy habits among employees. Bike racks, gyms or rooms large enough to accommodate stand-up desks are new resources offered to employees. The sky' the limit in any office these days. If you're a business owner, consider adding a few of these non-traditional amenities to boost morale, productivity and encourage healthy lifestyle habits.
As companies invest in mixed in-office and remote work environments, the physical location is still a strong element of work that we need to keep track of and better understand. If you're thinking about leasing a property or even investing in new buildings, consider these trends as we move towards the new office workplace.
Are you a recent graduate or a couple of years into the profession? Check out our previous post on the seven habits of highly successful real estate agents.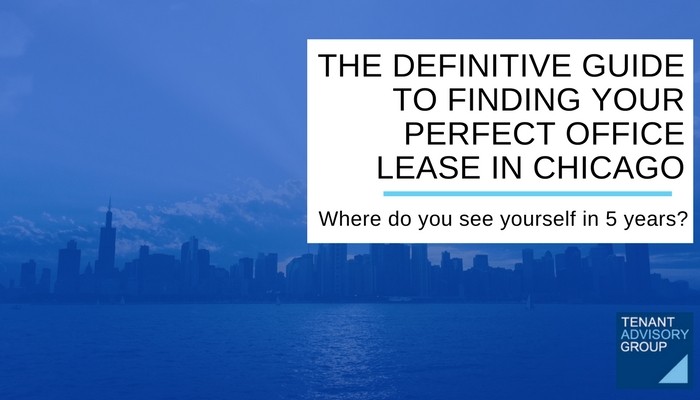 Where do you see yourself in five years? No matter how old we get, this question never becomes less annoying. Whether we're interviewing for a new job or even thinking back to our post college days right before we landed our first job–no one wants to answer this question. Now, where do you see your business in 5 years? Can you imagine your perfect office lease?
Here comes the even more annoying part. These questions are actually pretty important. Especially when it comes to running your business. Why? Well, eventually you reach that point. You blink an eye and you've arrived. "Welcome to Five Years From Now! How' The View?" If you've made a plan, the view is probably pretty great. It may look different than you had imagined, but nonetheless you've worked exceptionally hard and arrived at a point that's pretty comfortable. For the most part, it's smooth sailing from here.
For the sake of conversation, let' say you didn't make any sort of plan (uh oh). Well, the same amount of time has still passed. Sure, you've achieved some things and had some good experiences, but something is about to run amok. Scenario 1: Your business has exploded! It's thriving and things are moving right along. They're moving along so quickly that you can barely fit everyone inside the building! Scenario 2: Your business is shrinking or changing and you can't quite afford the space in which you currently reside. What do you do?!
Have no fear. There is still hope. Buckle up, because it's time for:
The Definitive Guide to Securing the Best Office Lease in Chicago
Here we will discuss a step-by-step method that is sure to make things much less stressful and much more manageable.
Before we begin consider this: Your strongest allies in this process will be negotiation, your leasing agent, time, and above all patience.
Now, let' begin with these three questions:
Is your business growing, shrinking, or stable?
What is your budget?
What is your timeframe?
Answering these questions will allow you to form an outlined checklist or better yet a rubric. The more organized this process is the less stressful it will be.
Let' consider a few scenarios with possible responses to our three questions.
Question 1
Scenario #1: My business is stable, but I'm planning to take on at least 2 more employees in the next few years.
-You'll want to make sure you have enough space to accommodate these new employees comfortably, without changing the dynamic of the office. It can be VERY beneficial to include growth rights within your lease.
-It might be time to start the search for a new location (but we'll get to that later!)
Scenario #2: My business may be downsizing in the near future, but I'm not keen on relocating.
-If you are very attached to your location, this is the perfect opportunity to renegotiate your lease. .
-Even if you are not downsizing, renegotiating is always an option!
Question 2
Scenario #1: I know exactly what I want, but I'm on a pretty tight budget
–This is actually a positive. The tighter your budget, the more specific you need to be. If you know exactly what you want your broker will have an easier time finding your perfect lease.
Scenario #2: I have a pretty decent sized budget, but I'm not quite sure what I want.
-This is good and bad. The positive is that the bigger your budget the more room you have for modifications. The negative is the less specific you are about your needs the longer the process will take.
In either case, mapping out your budget will allow for a clearer understanding of what you will be spending.
Monthly rate

If you're looking for a space downtown here are the prices you can expect based on class.

Class A: $35-$50 Gross
Class B: $22-$34 Gross
Class C: $17-$22 Gross
Utilities

As if individually metered or apportioned by sq/ft
Incurred beyond rent

Taxes
Common Area Management (CAM)
Question 3
For this question we're not going to use scenarios. The timeframe has a lot of components.
On average it can take between nine months to an entire year to secure a lease for a business of just 5-20 employees. If your business has over 100 employees it could easily take 1.5 years.
REMEMBER: Time is your ally.
Time is your ally in real estate negotiation. Be aware of your time constraints. The last thing you want is to be caught in the lurch making rushed decisions and thereby losing leverage.
As part of your rubric make yourself a timeline. Here are the components you will need to complete it.
Negotiating business terms
Negotiating lease
Designing your space
Permitting

Architectural and engineering plans much be approved by the city. This typically entails a few hundred dollars in fees and between 6-8 weeks of waiting time for approval. You can expedite this process to just 2 weeks. However, this increases the price to a few thousand dollars.

Construction

Rarely does this aspect go without a hiccup. Be prepared for more time and if the planning is not done properly, more cost. Building out a 20,000 rsf office could take upwards of 2-3 months.

Lead time to find a new space (if you decide to relocate)
Don't forget about landlord response time. Often a landlord is occupied and may take days, sometimes weeks to make a decision.
Now you're in a great place! If you've followed the steps thus far you've created a pretty solid outline. You know your budget, your timeframe, and your likelihood for growth or reduction. Let' fill in the details.
Filling in the Details For Your Rubric
If you have decided to stay in your current location, that's great, it's time for renegotiation. If you have decided to expand it is time to consider the type of space that will suit you best!
There are three categories of properties: Class A, B & C. Depending on your budget, the image of the firm you are trying to portray, and the quality of property you require. This can vary greatly. It's important to understand the differences in class of property. Before you have your heart set on a space, be aware of how your employees are getting to work. Note if you will need to be close to public transportation and/or set aside a portion of your budget for parking, if need be.
There are three general types of space
Loft space
Private offices
Collaborative space
Consider this when determining the amount of space you will need. Will you be hosting clients in your space? Does your space need to reflect your image?
The industry standard is about 250 square feet per person. Multiply this by the number of employees and you will have the approximate square footage you will need. If you are regularly hosting clients in your space it is important to have a clean, peaceful area to conduct business. For example, a nice conference room near the reception area is common. Having a kitchenette near the conference room makes sense. Potentially having an office or two for guests to use is a nice feature as well.
The only thing left to decide is the length of your lease. Landlord' prefer to sign longer terms lease, and are more willing to reduce rents and increase concessions with the longer term. Shorter-term leases provide more flexibility to the tenant and typically are at a premium.
The rubric is now complete. You should have all the details listed and organized. The only thing missing now is the lease. Read below for our last three tips!
Lease Acquisition
There are a few different ways to secure a great lease. Our suggestion is to contract with a commercial real estate broker and a real estate attorney. This allows for the least amount of headache and the fastest acquisition with the best deal terms. If you choose to use a commercial broker we believe it is very important to find one whose agency represents only tenants. The conflicting interests of an agency that represents both tenants and landlord can be harmful.
The broker's role is to minimize cost and the attorney' is to minimize risk. Both are very important. However, the real estate attorney only comes into play after the space has been chosen and the broker has negotiated the business terms. Attorneys may have less knowledge on the business side of the equation. We suggest that this negotiation should be left to the broker. Likewise, the legal terms of the lease will need to be reviewed by a qualified real estate attorney- not your estate planner, IP attorney, or medical malpractice lawyer.
Negotiation is key. A tenant might be able to directly negotiate (without a tenant representative) an additional 5%-10% off the original asking price. We suggest utilizing a commercial broker, as he or she may be able to negotiate 25%-35% off the original price. This includes free rent, tenant improvements, moving allowances, reduced escalations and reduced securitizations.
Free rent is becoming less and less common. However, the longer your lease (more years of term) the more complimentary rent you will receive. Up until recently, one month of free rent was allotted per lease year of term. However, that too is dependent on other factors. For instance, if a larger tenant improvement allowance was negotiated you may be entitled to less free rent.
Subleasing
A company is an organism subject to growth, reduction, but most of all change. It is a good idea to give yourself the flexibility to sublease should your financial, special, or general situation change. Most all leases come with the ability to sublease. The difference will be in the terms of the sublease clause. This includes: the amount of time allowed to notify the landlord, how much control the landlord possesses in the process of determining ability to sublease, who the tenant can sublease to, whether or not the landlord can take back possession of the space relative to what you are subleasing, and how the profits (if any) are shared.
Co-tenancy
We feel that co-tenancy is not typically a good idea as it complicates the entire process. If you need to cotenant with another business, make sure you are both on the lease. Landlords prefer one entity, so that alone makes it a more difficult negotiation. Make sure that each party is responsible for their proportionate share. This can be difficult to achieve, as landlords would prefer to write two separate leases. We only suggest this to people who are very trusting of their co-tenant. In those scenarios, typically one tenant is on the lease and the other has a sublease agreement. We would highly suggest that you take caution when entering into agreements of this nature.
You have safely made your way through the guide and should be ready to take on the challenge of finding that perfect lease! The best way to do this is to know exactly what you want down to the smallest detail. With this guide you will hopefully have a clearer picture of your process and what it entails.
For more information contact Bill Himmelstein of Tenant Advisory Group.