Tenant Advisory Group's Fall Networking Events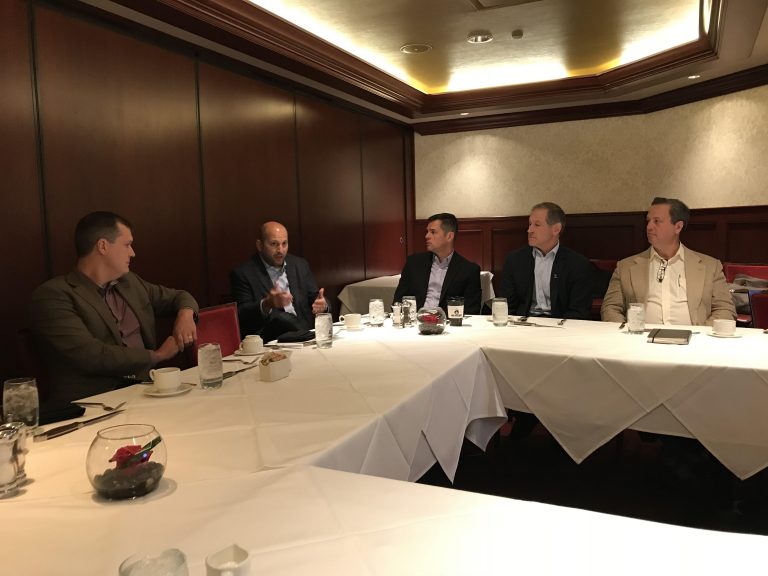 The September Executives Breakfast and Luncheon inspired a number of great discussions and offered Chicago business leaders the opportunity to broaden their networks.  
At the Executives Breakfast, attendees discussed "creating work-life balance and how to manage work-from-home employees." Here are some of the many responses:
Mike Maddock, Founder & CEO, Maddock Douglas: You don't live to work; you work to live. The example the founders set is what the employees will follow. Don't let people down.
Grant Gochnauer, Co-Founder & CTO, Vodori: Culture is a big component, and founders set the tone of the culture. It depends on where you are in the life of the business. There's a sense of community, team dynamics and trust that is hard to facilitate when working remotely. Likewise, it's hard to optimize remote work.
During the Executives Luncheon, guests were asked, "What have you done to create strong cultures in your organization?" Here are a few of the responses:
Michael Reddy, President, Digital Authority Partners: 1. Create shared goals and objectives, as we are trying to avoid silos. We have a few goals set that reach across the entire company. 2. Be good to people and offer full healthcare, strong 401ks and an open vacation policy. Don't set hours of working. Work hard, remain available, communicate and be transparent to help the team understand priorities and what is on the horizon.
Jeremy Bird, CEO, 270 Strategies: We take space very seriously and have no doors. We are promoting a culture of transparency. We bring everyone together twice a year for company-wide retreats. We have a call every Tuesday for "triple bottom line." Impact, innovation, and profit.
Thank you to all who attended!
If you're a business owner with 20+ employees who is interested in attending future TAG events, please email Bill Himmelstein at Bill@TagCommercialBroker.com.
TAG Executives Breakfast Guest List:
Chris Beaulieu, Owner, Christopher Beaulieu & Associates
Mike Berntsen, CEO, Penthouse111 & Gentlemen's Cooperative
Robin Berthier, CEO & CO-Founder, Network Perception
Brian Black, Managing Director, Tenant Advisory Group
Gary Breden, Business Performance Advisor, Insperity
Mason Cole, Managing Partner, Cole Sadkin
Stephen Daday, Managing Partner, Klein, Daday, Aretos & Donoghue
Grant Gochnauer, Co-Founder & CTO, Vodori
Robert Jacobi, President, Arc Technology Group
Jeff Jozwiak, Principal & Co-Founder, Norcon
Greg Kris, Managing Partner, Kris Ampersand
Kevin Krumm, CEO, Objective Paradigm
Andy Mack, CEO, SnapMobile
Mike Maddock, Founder & CEO, Maddock Douglas
Craig Manske, Managing Principal, Development Solutions Inc
Mark Meyer, Founder, E&M Strategic Development
Domenic Rinaldi, Managing Director, Sun Acquisitions
Mitchell Roth, Managing Partner, Much Shelist
Jon Talty, Chairman & CEO, OKW Architects
Tim Van Mieghem, Partner, The ProAction Group
Jim Vaselopulos, Founder, CEO, Rafti Advisors
Jeremy Waitzman, Partner, SFGH
Jessica Wu, COO, Vetted Placements
Igor Zhizhin, President, American Street Capital
TAG Executives Luncheon Guest List:
Jim Anfield, Principal, Aptitive
Jeff Asperger, Partner, Meltzer Purtill & Stelle LLC
Jeremy Bird, CEO, 270 Strategies
Fred Bliss, CTO, Aptitive
Timothy Czmiel, Managing Partner, Virtas Partners
Jeff Durocher, CMO, Advance Search International
Daniel Ebert, COO, Greenheart
Morrie Elstien, VP, Cendrowski Corporate Advisors
Jessica Freiburg, Partner, Sassetti LLC
James Gustin, Partner, Fig Media
Rhonda Jensen, President, Jensen Litigation Services
Pat Monahan, CEO, Riverside Graphics
Dan Porcaro, CEO, PSM Partners
Michael Reddy, President, Digital Authority Partners
Mark Rickmeier, CEO, Table XI
Jonathan Rothstein, Senior VP, MB Financial Bank
David Sanchez, Founder & Director, 10 MGMT Agency
Mitch Weinstein,  Managing Partner, Chuhak & Tecson