On March 2nd, BILL HIMMELSTEIN of Tenant Advisory Group, along with GARY BREDEN of Insperity and Venture X Chicago – Oak Brook co-hosted a high level networking event at the co-working space of Venture X in Oak Brook. This incredible networking event was for Chicago's highest producing business owners and C-suite executives.
We were honored to have guest speaker, Trisha Daho – Founder and CEO of Empowered Leadership Cultivation speak on the topic of conversation: "Evolution of Space and Its Alignment to Culture".
Following the event, an after party was held at Ditka's, sponsored by Wintrust.
It was an incredible evening of great food, drinks, conversations, and networking.
Thank you to all of our fantastic guests!
Scott Delano – Principal at StudioGC architecture+interiors
Devin Rowland – President of KMA Group of Companies
Dana Todd – CEO at Balodana | Made-to-Measure Fashion Marketplace
Matt Friscia – Owner Transworld Business Advisors
Tony Sansone – Business Broker at Transworld Business Advisors
Colleen Baader – Senior VP of Rieke Office Interiors
Michael Azzaro – VP of American Community Bank & Trust
John LaRoy – CEO at Apparel Redefined
Ashley Jensen – Advisor at Insperity
Bobby Kellman – CEO at Enclave Coworking
Marc Halpin – Founder, Kerosene Ventures
Sue Harrawood – Founder, Peace of Mind Virtual Assistance
Jon Anderson – VP of Finspire, LLC
John Gotschall – CEO of Coaching Financial Concepts
Sudhakar Kandanala – President, Sliver Business Services
Laura Garofalo – Laura Garofalo Law, LLC
Marty Bracco – Tandem HR
Dawn Hershik – Managing Director of Supporting Strategies
Greg Serber – President of Private Funding Corp
Mary Landoverde – Founder & CEO INDISTRY Media
Mark Gross – VP of CSSI – Cost Segregation Services, Inc.
Daphne Paras- President of transFIREmation
Trisha Daho – Founder & CEO of Empowered Leadership Cultivation
Jason Chess – First VP at Signature Bank
Paul Detlefs – Founder of The Traction Group
Steve Mesirow – Managing Director of Mesirow
Jim Catalano – Marketing Director at Catalano, Caboor & Co.
Rob Wilson – President at The Wilson Companies
Beth McLean – Partner at Private Vista LLC
Michael Liss – Managing Partner of Liss & Lamar, P.C. 
Chris Johnson – Entrepreneur and Founder
Elisabeth Williams – SR VP at Insperity
Mike Bender – Partner at 41 North Contractors, L.L.C.
Adam Fuchs – Banker at Wintrust Bank Chicago and After Party Sponsor Wintrust Financial Corporation 
Tina Crnkovich – EVP at Tenant Advisory Group, LLC 
Scott Solverson – Founder b2b Konnections
Chris Sweetland – Regional President of Huntington National Bank
Mary Erlain – Coach, Consultant Trainer at Peak Development Strategies
Andrius Petkunas – President of Trans Lines Inc.
Mark O'Connor – mHUB
Jamie Horn – Partner at Horn Design
Robert Miller – GM of Hearing Health Center, Inc.
David Davis – Owner Davis Audio Visual, LLC
Cathy Jama – EVP at Tenant Advisory Group, LLC 
Darren Mende – CFO/ COO DP Mende & Company
Autumn Pippenburg – President Art of Giving Foundation
David Gee – Chief Development Officer Big Brothers Big Sisters of Metropolitan Chicago
Gary Breden – Advisor at Insperity
Craig & Preston Reiff- Managing Partner at Venture X
Kim Stapleton – Ice Miller LLP
Jeff Armstrong – Strategic Partnerships for Cultivate Advisors 
If you are interested in attending our upcoming events, please email bill@tagcommercialbroker.com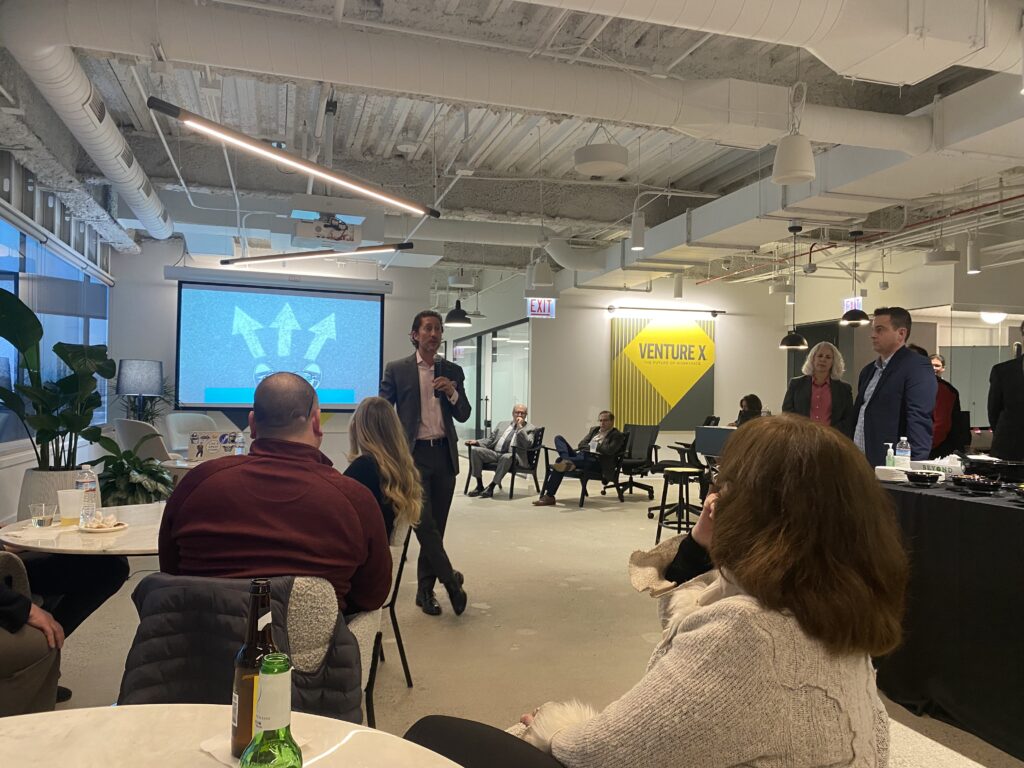 ---
TAGS
---