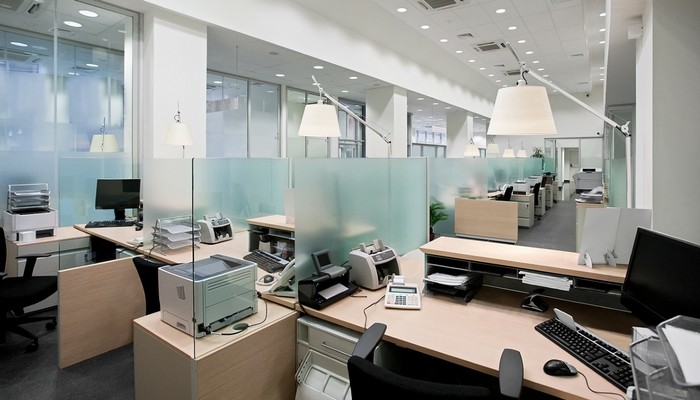 When moving to a new office space, there is quite a bit to consider to ensure the process goes smoothly. One area that often gets overlooked is transition timing and lease overlap. However, this is a key point to be aware of, as a disruption or delay in the build out process can mean operating without an office space for an unknown period of time.
Before the office packing begins, verify the new space will be ready when you need it. Check in with the landlord regularly to ensure the process is moving forward at the agreed upon pace. Internal processes – especially if there is construction involved – can take longer than originally anticipated, which is why an established and realistic timeline is crucial.
It is not unreasonable to establish consequences should the space not be delivered when promised. This will need to be written into the initial Letter of Intent and confirmed to be in the lease prior to signing. If key milestones in the buildout process are not met, then the incoming tenant should receive free rent, a push back on the commencement date, compensatory damages or other lease concessions.
In addition to including consequences in the contract, the tenant should reach out to their current landlord to prepare for the worst case scenario. Create a contract with the current landlord for a month-to-month lease just in case the new space is not ready in time. This allows for peace of mind with the business, as you won't be left without a space in which to operate.
Landlords traditionally prefer to use their own recommended vendors when it comes to space renovations or construction. While they may prefer to work with contractors they know and trust, too often the reason they restrict outside work is because they receive a portion of the costs. However, this makes the landlord more accountable, which makes contract negotiations even more important. A licensed broker will know how to verify the landlord's quotes and ask for their itemized breakdown of the associated costs. Additionally, good brokers will have their own set of preferred vendors who can review the quote to ensure it is accurate.
As a general rule, avoid moving spaces more than one month in advance, as it often makes no financial sense to leave the currently leased space to move into the new one early. Despite the free rent of moving in early, the old space is still accruing rental costs. Ideally, move into the new space around one month in advance to allow for a seamless transition.
Relocating an entire office is a daunting task, and business owners rarely have the time to allocate to the process. Thankfully, there are professionals available to guide businesses through the transition, effectively reducing stress and increasing the efficiency of the move. The secret is planning and knowing what to expect, which will greatly increase the chances of a smooth transition.
When considering a relocation, a long lead-up time is imperative. Moving an entire business is a large, involved process with many moving parts that can really disrupt productivity if not planned property. A general timeline to consider is: a company that requires a 10,000-square-foot space should begin their planning 12 to 18 months prior to moving; a 4,000- to 7,000-square-foot space should start nine to 12 months in advance; and a space less than 4,000 square feet should plan at least six months before the move. The longer the lead up time, the less likely there will be major complications, effectively saving the company more money.
Once a business has a timeline established, it's time to set and manage expectations. Too often this step is overlooked, and yet it is essential in creating a smooth, efficient relocation. While this responsibility largely falls on the broker, the client will need to accept what is possible within their current situation and budget. For example, if a client wants a custom buildout, budgets will need to increase or compromises will have to be made. Unfortunately, there are brokerage firms that will over-promise a client simply to obtain their business, thereby setting unrealistic expectations. This is a dangerous precedent to set, as the client will be left with an unpleasant experience due to a drawn out process, less-than-ideal prices and a higher cost. The best business practice to benefit every party is to establish realistic expectations, then work to exceed them.
Prior to setting foot in a single office space, it's a good idea to develop a basic layout and checklist of requirements for the new location. Identifying and prioritizing employee activities and needs will help provide the broker with a clear idea of the end goal. Decide how many offices and conference rooms are needed, and how much space should be allocated to each employee. A helpful tip for this process is to think about the day-to-day lives of each employee, as this will provide clues as to what amenities the office layout will need.
Remember that planning the layout of a space isn't only about the current workforce and day-to-day needs. It's about creating a template for the business to grow. Consider how large the next office must be, and then identify how much space should be allocated to each department of the workforce (sales, marketing, creative, programmers, accountants, etc.). How many private offices, conference rooms, collaborative spaces and kitchens will the office need, and how much square footage should be allocated to each employee? The process that addresses space requirements is called "benchmarking." For example, a tech company will have different requirements than a law firm when it comes to design, layout and square footage allocation. A creative agency with 10 employees may want 175 to 190 square feet per person, whereas an accounting firm might want 230 to 250 square feet per person. Effective benchmarking through a discussion with the broker will improve their ability to find the right space that can be perfectly utilized per a business' needs.
Once the preliminary search has narrowed down a few options of spaces that would be right for a business, this is the perfect time to seek the input of a space planner or architect to discuss the buildout and design plans. Being able to compare space plans among a selection of top contenders will help discern if the exact square footage and shape of each office will be a strong fit. It may depend on the building, but this preliminary planning can typically be done alongside the lease term negotiations. As always, be sure to take advantage of a long lead-up time as well as the resources of a commercial real estate broker in order to acquire that dream office in a smooth manner and at a fair rate.
Corporate giants ditching their suburban campuses for Chicago skyscrapers has been a common occurrence in the last few years — Kraft Heinz, ConAgra, McDonald's, Google and Motorola. Now Wilson Sporting Goods joins the movement, leaving its location near O'Hare Airport for the iconic Prudential building.
Chicago isn't the only market experiencing this massive shift in commercial real estate. The New York Times recently reported the same situations in metropolitan areas around the country. Just what is causing these corporations to leave their sprawling headquarters for fast-paced urban areas?
Tech-Savvy Talent
Countless reports have indicated that millennial workers are attracted to living and working in high-energy urban areas. These tech-savvy employees may not even have a car, so driving an hour to the office isn't an option. International corporations looking to attract the next generation need to be easily accessible via public transportation, which rules out most suburbs.
Better Amenities
Trendy lunchtime spots and snacks from local food trucks are just a few of the many amenities offered simply by working in Chicago. These urban incentives are exactly what top talent are looking for when selecting their next position. Additionally, clients and customers who visit their corporate partners prefer to spend time downtown.
Top Vendors
The booming South Loop and West Loop neighborhoods are filled with smaller companies built to serve the needs of the ConAgras and McDonald's of the world. Corporations that don't want to miss out on the next big mobile ordering app or company culture trends need to be where these ideas are born.
Click here to read more about how the South Loop is the neighborhood to watch for commercial real estate.
Qualification is essential when looking to lease a commercial space for your business. You and your new landlord will be making an investment in each other so it's important to prove to the landlord that you are up for the financial commitment of the move and setting up of the new space.
Landlords must be reassured of the qualifications of their potential tenant. The landlord should be looked at as a bank. The landlord is going to invest funds, resources and time into the tenant. Therefore, like a bank, they need to be reassured that they are lending to a financially stable and professional company to ensure that rent will be paid and the building will be properly maintained.
Proving that your company is qualified to rent takes more than a good credit score. Commercial real estate is generally far more expensive than residential real estate, therefore more proof of qualification is needed. Landlords want to see income, profitability and cash flow, previous year's tax returns and sources of financing and securitization, if a newer entity. Landlords are reluctant to enter a lease agreement with a business without knowledge of operating history, positive cash flow or strong financial backing, especially if an entity is less than two years old.
Before searching for a commercial space for your company, make sure your financials are in order, you are searching for a space within your price range and have proof of your qualifications readily available for your potential landlord.
Chicago is home to a variety of diverse neighborhoods. Finding the perfect location for your business can be difficult. Below are 4 of our favorite neighborhoods that range in everything from style to price.
South Loop
Price: $$$$
The South Loop can be on the pricy side, but the historic buildings and beautiful surroundings certainly make up for it.
Food & Entertainment:
A variety of restaurants, bars and theaters reside in the South Loop. Some of Chicago' best Asian restaurants can be found in Chinatown, just next door. The neighborhood also borders famous Chicago landmarks, Grant Park and the Chicago Theatre on State Street.
Transportation & Accessibility:
This neighborhood is great for businesses with clients from all around the Chicago area, as there is an abundance of easily-accessible transportation. The South Loop is an ideal location for law and brokerage firms as it is home to the courthouse as well as the Chicago Board Options Exchange.
Buildings:
The South Loop has a mix between classic-style buildings and new and trendy buildings, great for accommodating many different types of businesses. Dearborn Station, just south of Printer' Row, is the oldest train station in Chicago and it has been converted into offices and retail shops. Other old rail yards have also been converted into offices and town houses.
River North
Price: $$$$
River North is one of the pricier neighborhoods so businesses should make sure they are willing to spend big for such a fabulous location.
Food & Entertainment:
River North is home to some of Chicago' best restaurants and bars. There are great options for upscale dining and nightlife. For daytime entertainment, the Magnificent Mile, Navy Pier and Merchandise Mart are right around the corner. The neighborhood is also home to the gallery district and local art can be found on every block.
Transportation & Accessibility:
River North is one of Chicago' most accessible neighborhoods. It can be reached by several different CTA train lines, buses and metra trains. Parking can be difficult in this neighborhood, so public transportation or a taxi is best.
Buildings:
While this neighborhood is more upscale than others, the views are unparalleled and can be found anywhere you look. From the Chicago River to the beautiful downtown skyscrapers, If you're seeking a creative and inspiring area with surroundings to awe clients, River North is just for you. Spaces in this neighborhood are trendy with many contemporary lofts.
Lincoln Park
Price: $$$
Lincoln Park is extremely close to downtown Chicago, without the expensive price tag. If you're a business seeking to be near downtown without breaking the bank, Lincoln Park is perfect for you.
Food & Entertainment:
Lincoln Park is the perfect juxtaposition of suburban and city-life feel. With an array of greenery and beautiful parks, this area offers great views and space for the active individual. Along with this, the area offers a melting pot of ethnic restaurants and an abundance of cafes, bookstores and coffee shops. There are also lots of great music venues in the neighborhood like Park West, Lincoln Hall, Neo Nighclub and B.L.U.E.S. Other hotspots in Lincoln Park include the Lincoln Park Zoo, Chicago History Museum, Alfred Caldwell Lily Pool, North Avenue Beach and the Lincoln Park Conservatory.
Transportation & Accessibility:
There are many busses and CTA lines, such as the Purple, Brown and Red Line Trains. Parking is also very accessible as well.Lincoln park can be reached via car or taxi through the Kennedy Expressway or Lake Shore Drive.
Buildings & Surroundings:
Most of the spaces in this neighborhood are fresh and updated. There is a mix of older homes with a modern and contemporary look.
Wicker Park/Bucktown
Price: $$
The Wicker Park and Bucktown neighborhoods are great for smaller businesses at a cheap price. The area is very active with a variety of amenities, and entertainment.
Food & Entertainment:
Large streets such as Division, Milwaukee, North and Chicago offer an ordeal of entertainment, restaurants, bars and art. If your business likes to entertain clients, this area is perfect for you.
Transportation & Accessibility:
The neighborhood is accessible by several CTA buses or the Blue Line. It's also near the Clybourn Station which is a stop on the Union Pacific North and Union Pacific Northwest Metra lines. The location is convenient for downtown commuters.
Buildings:
Many of the buildings' exteriors in Wicker Park and Bucktown have a timeless look. Much of Wicker Park was designated as a Chicago Landmark District in 1991.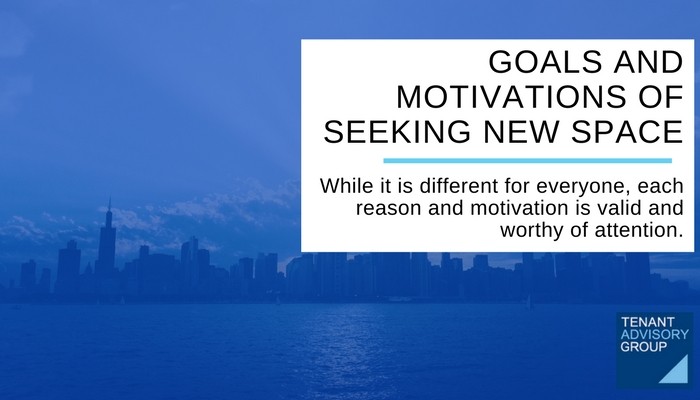 While it is different for everyone, each reason and motivation is valid and worthy of attention.
What TAG has seen to be common goals and motivations are the following:
Higher quality space

Outgrowing space
Want greener, more productive space
More efficient space
Meeting space
Current space doesn't work for their needs
Expanding physical activities (e.g., product testing)
Clients coming to the office, have to show respectable space

Employee retention

Co-locating with employees/ closer to employ base
Having a comfortable space that makes employees want to work in that space and environment

Convenience

To move to a space closer to the owner
Being closer to partners, customers, suppliers, employees/talent, resources

Location

Closer to public transportation
Near distribution channels

To save money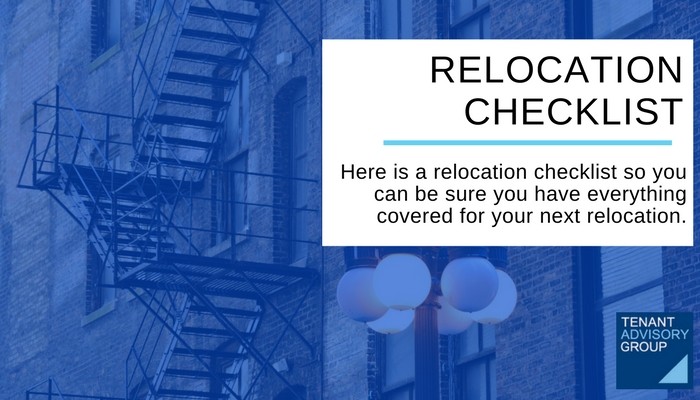 TAG helps to relocate many companies every year saving them time, money, and hassle. Here is a relocation checklist so you can be sure you have everything covered for your next relocation.
____ Have movers come out to premises and do a walk through to determine relocation costs. Give a basic idea of what items need to move, any equipment or funiture that has to be taken down or taken apart in one location and put back together in another location.
____ Schedule time for freight elevators and docks at old and new locations.
____ Identify and secure insurance requirements.
____ Have phone and data broker arrange for telecom to be set up at new location and canceled at current location.
____ Contact furniture vendor to make sure all needs are taken care of.
____ Any sensitive items such as bank statements, contracts, invoices, client information etc need to be separated and either filed in another area of the office or if need be shredded.
____ Prepare an inventory of everything being moved.
____ Prepare change of address- notify post office, prepare business cards and stationary, send move notification to clients and vendors, change periodicals, subscriptions, and bill pays to new address.
____ Throw out all materials not essential to be relocated. May need to arrange for additional trash removal, charitable donation pick up, or coordinating off-site storage.
____ Communicate clearly with staff and movers so everyone is on the same page with how to prepare and label the belongings and what to expect with the new location.
____ Decommission old space. Get rid of unwanted furniture and equipment. Bring space back to what the lease terms specify- broom clean condition is typical.
Like anything, you should have a good team around you to help facilitate this process. Your broker should have key contacts in each of these areas that they can introduce. Always be open and honest about questions and concerns you have throughout the process.