Executives Networking with Tenant Advisory Group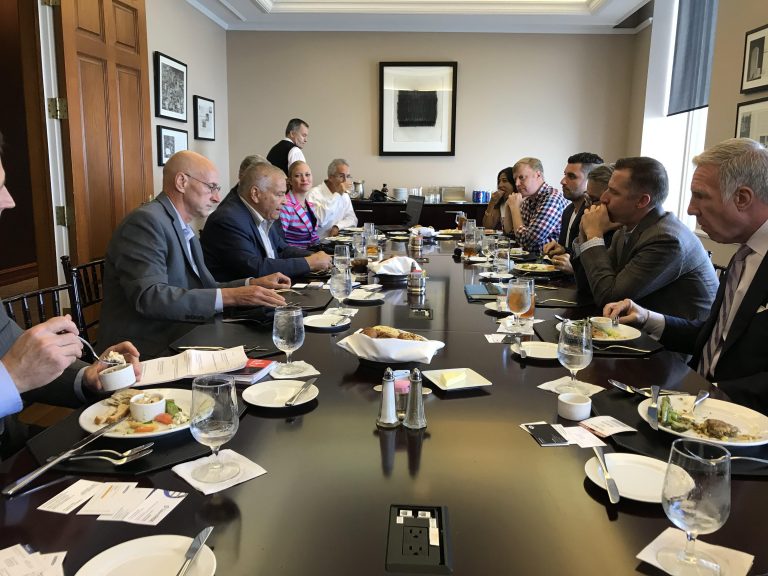 Every month, Tenant Advisory Group hosts an Executives Breakfast and an Executives Luncheon to provide an opportunity for Chicago business leaders to build new, meaningful connections and discuss topics relevant to running a business.
During the Executives Breakfast, attendees were prompted with the question, "what is the best way to handle growth, and what do you wish you would have done differently?" Here are a few of the lessons shared in response:
Matt Green, Cofounder, VentureScale: Stay in your lane and focus on your role. Make sure you have goals set, and strive to achieve them.
Paul Detlefs, President, The Prestwick Group: Do not underestimate the power of delegation. Hire others to take stuff off your plate to focus your efforts. Consistently make an effort to simplify your business as you grow. Also, constantly look at the right structure for your business – is it the right time to take it to the next level? Should we spin off and outsource departments? Systematize your business and create process sooner.
Scott Nicholson, CEO, KO Business Solutions: I wanted to control everything and didn't have systems and processes in place fast enough. Develop internal talent that grows with the company by creating a curriculum of classes that internal teams can take to develop.
At the Executives Luncheon, guests were asked, "what are some key lessons learned in growing a customer or client base?"
Zak Dabbas, CEO & Founder, Marco & Associates: Always look ahead to see what's next. Never rest on your laurels. Maintain a clear and shared mission and vision, and breed a culture where everyone is an ambassador of the company. You're only as good as the worst person on your team, so build a strong culture to elevate the level of energy and excitement at the office.
Ruth Minnick, Global Business Development Director, Unispace: Offer to provide value beyond services/products. Take care of each relationship, as you never know where it's going to lead.
Thank you to all who attended!
If you're a business owner with 20+ employees who is interested in attending future TAG events, please email Bill Himmelstein at Bill@TagCommercialBroker.com.
TAG Executives Breakfast Guest List
Mason Awtry, CEO, Rightsize Facility
Craig Castelli, Founder & CEO, Caber Hill Advisors
Paul Detlefs, President, The Prestwick Group
Kenny Estes, Cofounder, West Loop Ventures
Matt Green, Cofounder, VentureScale
Tom Gregg, President, Vehicle Acquisition Network
Josh Haid, Managing Partner, Women's Divorce & Family Law Group
Rhonda Jensen, President, Jensen Court Reporting
Mike Kupfer, President & CEO, Black Diamond Solutions
Stan Logan, Chairman, Quality Back Office
Jim Macdonald, Managing Director, First Analysis
Andy Mack, CEO, SnapMobile
Joseph McCoy, Partner, Riley Safer Holmes & Cancila
Scott Nicholson, CEO, KO Business Solutions
Ben Renda, CEO, Global Capital
Ron Repking, Founding Partner, Sriracha Partners
Mitchell Roth, Managing Partner, Much Shelist, P.C
Karen Sanders, President, Sanders IT Consulting
Allan C Sutherland, Founder, President and CEO, In-telligent LLC
Rosemary Swierk, President, Direct Steel & Construction
TAG Executives Luncheon Guest List
Jeff Asperger, Partner, Meltzer Purtill & Stelle LLC
Lou Costabile, CFO, MasterMind Group
Zak Dabbas, CEO & Founder, Marco & Associates
David Diamond, Managing Partner, Kutchins, Robins & Diamond
Morrie Elstien, VP, Cendrowski Corporate Advisors
Charlie Franklin, Managing Partner, Franklin Law Group
Rick Gray, CEO, TalentRISE
James Gustin, Partner, fig Media
Michele Gustin, CEO and President, Fig Media
Celia Jones, CEO, The Escape Pod
Dan Kardatzke, President & CFO, Solstice
Bruce Menkes, Managing Partner, Mandell Menkes
Ruth Minnick, Global Business Development Director, Unispace
Dan Porcaro, CEO, PSM Partners
Mark Rickmeier, CEO, Table XI
Jonathan Rothstein, Senior VP, MB Financial Bank
Joanna Sobran, CEO, MXOtech
Rick Stearns, CFO, Origami Risk