Networking with Tenant Advisory Group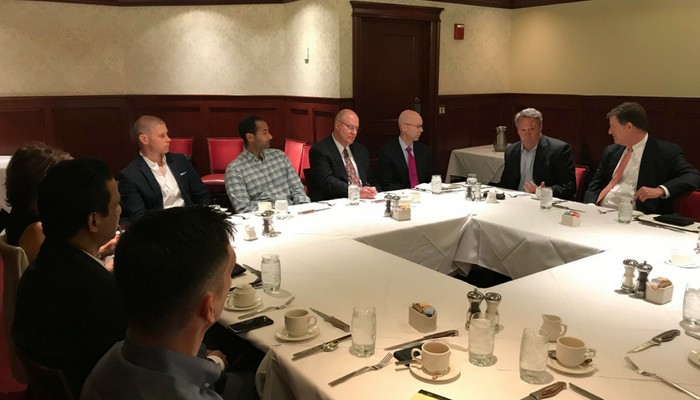 The May Executives Breakfast and Luncheons offered a place for insightful conversation and networking between local, Chicago entrepreneurs. Attendees were given opportunities to provide business advice and share valuable experiences with one another.
Guests at the Executive Breakfast were given the discussion topic of best practices pertaining to attracting top talent. Here are a few of the many responses:
Craig Stout, CEO, Stout, Risius, Ross: It is all about the core values of the firm and who they are. Retain the best things from large firms and leave the worst things. Be super transparent, follow open book management and create a team environment. I have the most luck when someone in the firm knows a potential new hire. If it doesn't feel right don't do it.
Tomer Yogev, CEO, TandemSpring: Strength-based leadership development is key. Most people are aware of what they are not good at. It's about getting in touch with individual strengths and understanding the things that people are strong at and bring that to the forefront.
Entrepreneurs at the Executive Luncheon were asked how to best navigate growth and what they wish they had done differently. Here are some of their responses:
James Scherzinger, Managing Partner, Cray, Kaiser, Ltd: I would have spent more money and time on staffing needs. Also, trying to leverage our staff to a greater degree, get them acquainted with softer skills and groom everyone for leadership roles.
Ryan Mannion, EVP & Brand Strategy, Symmetri Marketing Group: There is no need to grow so quickly. I suggest building capabilities one at a time and get focused around specific verticals. Scaling knowledge and expertise is important. Focus on the right clients.
Thank you to all who attended!
If you're a business owner with 20+ employees and are interested in attending future TAG events, please email Bill Himmelstein at Bill@TagCommercialBroker.com.
TAG Executives Breakfast Guest List
Bob Berland, President, Berland Communications
Barbara Best, President, Capital Strategies Investment Group LLC
Bruce Billmeyer, Partner, BCU Risk Advisors
Jake Dayan, CEO, Community Tax
Brian Deutsch, Founder, XV Venture Capital
Andrew Maloney, Owner, CNS+T
Mike LaVista, Founder, Caxy
Amy Leafe McCormack, CEO, McCormack Schreiber Legal Search
Mohammed Saleem, President, AES Services
Ann Simms, COO, American Planning Association
Kathy Steele, Founder & CEO, Red Caffeine
Craig Stout, CEO, Stout Risius Ross
Rosemary Swierk, CEO, Direct Steel & Construction
Tomer Yogev, CEO, TandemSpring
TAG Executives Luncheon Guest List
Jeff Asperger, Partner, Meltzer, Purtill & Stelle
Mark Bromberg, Director of Operations, GKIC
David Diamond, Managing Partner, Kutchins, Robins & Diamond
Morrie Elstein, Vice President, Cendrowski Corporate Advisors
James & Michele Gustin, CEO and President, Fig Media
Ryan Mannion, EVP & Brand Strategy, Symmetri Marketing Group
Dan Porcaro, CEO, PSM Partners
Mark Rickmeier, CEO, Table XI
Arabel Alva Rosales, President and CEO of AAR & Assocs. Ltd, Co-founder, Principal and Producer of Latino Fashion Week
Jonathan Rothstein, Senior Vice President, MB Financial Bank
Michael Rothstein, Co-Founder and Managing Partner, Tabet DiVito & Rothstein
James Scherzinger, Managing Partner, Cray, Kaiser, Ltd
Joanna Sobran, CEO, MXOtech