Spring Networking with Tenant Advisory Group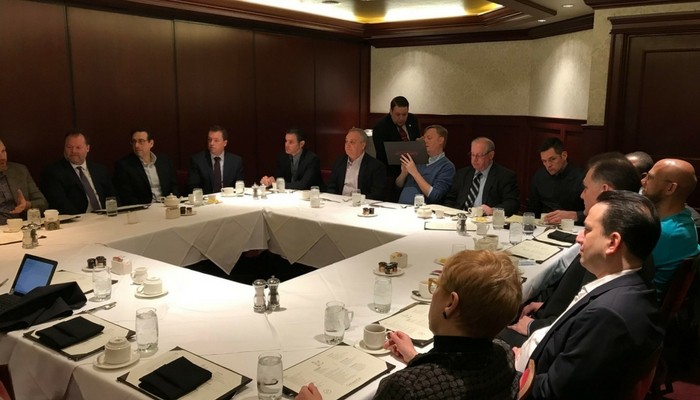 Insightful discussions bloomed at the Tenant Advisory Group Executives Breakfast and Luncheon in March. At each of these events, entrepreneurs offered valuable advice prompted by a discussion question led by Bill Himmelstein.
At the Executives Breakfast, guests were asked: How do you help your employees be more successful? Here are a few of the many responses:
Jeff Bartelt, CEO, MidwestHR: You should communicate your vision for your company. Employees have a personal vision of where they want to be, so it's important to align your visions and make sure to share goals and values at the beginning.
Steve Krull, CEO & Co-Founder, BeFoundOnline: A company's culture can't be contrived. You must put your values on the wall and wear them on your sleeve, as well as follow through on your promises. Being successful means believing in yourself and the people around you.
Entrepreneurs in attendance at the Executives Luncheon shared their advice based on the discussion question: What does success look like to you? Here are a few of their responses.
Steve Gustafson, Managing Partner, Gould & Ratner: It's about creating ongoing relationships. The key to success is to be a long-term team member for their clients.
Rob Sprague, COO, Smart Lift: For a company to be profitable, build a healthy culture that develops people to be successful in business and life. Lead from your strengths and outsource your weaknesses.
Thank you to all who attended!

If you're a business owner with 20+ employees and are interested in attending future TAG events, please email Bill Himmelstein at Bill@TagCommercialBroker.com.
TAG Executives Breakfast Guest List
Jeff Bartelt, CEO, MidwestHR
Martha Bell, Principal, Tilton, Kelly & Bell
Bruce Billmeyer, Partner, BCU Risk Advisors
Richard Carden, Managing Partner, MBHB
Bob Domenz, CEO, Avenue
Brad Farris, CEO, Anchor Advisors
Steve Gustafson, Managing Partner, Gould & Ratner
William D. Himmelstein, CCIM, CNE, Founder & CEO, Tenant Advisory Group, LLC
Rhonda Jensen, President, Jensen Litigation Services
Steve Krull, CEO & Co-Founder, BeFoundOnline
Joe Liberty, COO, Better Business Planning
Larry Marin, Vice President, Near North National Title
Chris Miller, Managing Partner, Kelley Kronenberg
John Naughton, Vice President, Juneau Associates
Adriano Pedrelli, Impact Polymer LLC
Mark Rickmeier, CEO, Table XI
Ken Thompson, Managing Director, Level X Consulting
Keith Verisario, President, Wine Sergi Insurance
Haskel Weiss, President, TWG Benefits
Jonathan Weiss, Managing Partner, Levin Ginsburg
TAG Executives Luncheon Guest List
Joe Alioto, Managing Director, Madison Street Capital
Stuart Baum, President, Large Pond
Laurel Bellows, Managing Partner, Bellows Law Group
David Diamond, Managing Partner, Kutchins, Robins & Diamond
Morrie Elstein, Vice President, Cendrowski Corporate Advisors
Steve Gustafson, Managing Partner, Gould & Ratner
William D. Himmelstein, CCIM, CNE, Founder & CEO, Tenant Advisory Group, LLC
Tom Madura, Controller, Carroll Seating Company
Jordan Matyas, CEO, 1818 Advocacy Group
Dan Porcaro, CEO, PSM Partners
Jonathan Rothstein, SVP, MB Financial Bank
Mohammed Saleem, President, AES Services
Joanna Sobran, CEO, MXOtech
Rob Sprague, COO, Smart Lift
Jordan Weiner, President, Internet Consulting Inc