The commercial real estate market, as with all industries, is constantly evolving and shaping itself to stay current with the advancement of new technology available for business owners to gather information. This newfound wealth of public knowledge can be helpful, however attempting to charter these waters alone can prove costly. For a variety of reasons, commercial real estate brokers still hold the keys to finding the right space at the right price for companies in the market for a new home.
Here are three essential areas where a broker will bring serious value to your company's next real estate search.
Finding a Fair Deal
The most important aspect of real estate that both buyers and sellers can agree on, is finding a fair deal. Because "fair" is subjective based on whether you are buying or selling, the lessee or the lessor, a broker is used to find intermediate pricing to help both parties.
Brokers commonly use average rental market rates as a tool that shows average pricing per square foot based on neighborhoods, accessibility, building conditions and a variety of other factors. However, people are unaware that brokers go much more in-depth with their research. They also include tenant improvement allowances, securitization and rights to terminate, and free rent. In many cases, these factors make brokers more specialized than attorneys who may know the legal aspect of real estate terms, yet are unfamiliar with the fair business terms.
Off Market Opportunities
In both commercial and residential real estate, tools like Zillow, Craigslist and Loop.net have helped buyers see current activity. While this has been able to help with more transparency, on many occasions, not all opportunities are listed on these sites.
If you have an informed broker who is up-to-date on the market, they will be able to offer you off market opportunities. Active brokers should be in constant communication with leasing agents and owners to see any upcoming spaces that have yet to hit the market. Because so many cities are incredibly competitive in real estate, off market opportunities are able to increase your odds of finding a place by lowering the number of potential bidders.
Closing Speed
Brokers bring a necessary closing speed to transactions. Due to the increasingly rapid pace with which today' market is operating, quality spaces do not sit on the real estate market very long. There are certain relationships that must be formed in order for the finalized deal to be made between landlord and tenant.
Listing agents are that first point of contact in the cycle and experienced brokers will have an ingrained trust with these men and women. This serves to help you get the first rights to a space. The other major player in the process is the landlord. Having a broker by your side will ensure that he/she does not play games or try to sneak anything through a contract that can cause delays or headaches down the line. Because brokers know how to navigate smoothly through the entire transaction process, they will be far more efficient at doing so than a tenant who chooses to go it alone.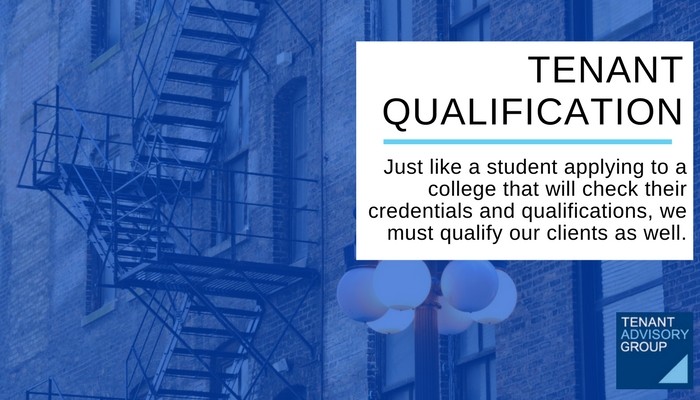 As a tenant broker we are the proverbial parent and our clients, the tenants, are our children. We want to ensure that they're safe, warm, and well protected with a strong roof over their heads and an even stronger lease. Just like a student applying to a college that will check their credentials and qualifications, we must qualify our clients as well.
This allows us to get to know them better and to better understand their financial situation. The most important thing in qualifying a new client will be the financials.
Very simply, a landlord should be viewed similarly to a bank. The landlord is going to invest significant funds into a transaction. Like a bank, the landlord wants to know that they are lending (in the form of tenant improvement dollars, free rent and leasing commissions) to a financially stable company able to pay the rent. Many people are under the impression that leasing commercial space is like leasing an apartment- as long as they have good credit they will be in good shape. The main difference is that that rent for an apartment is typically far less expensive than the rent for office space. The landlord cares far more about whether they have growing revenue streams, a strong balance sheet, or have been a stable business for a long time. Having good credit provides no guarantee to a landlord that the tenant can pay the rent every month and on time.
Landlords, like banks, want to see income, profitability, cash flow, or at a minimum, financial backing. Without an operating history, without positive cash flow and/or a strong balance sheet, or without a large cash balance in a bank account, a landlord will be reluctant to enter into a lease with that business.
Another important qualification question is: does the potential client have an accountant, an attorney and an existing banking relationship? Having these relationships signifies a robust company where others have invested their time.
For more information on client qualification, contact Bill Himmelstein by email at Bill@tenantadgrp.com