Yacht Networking With TAG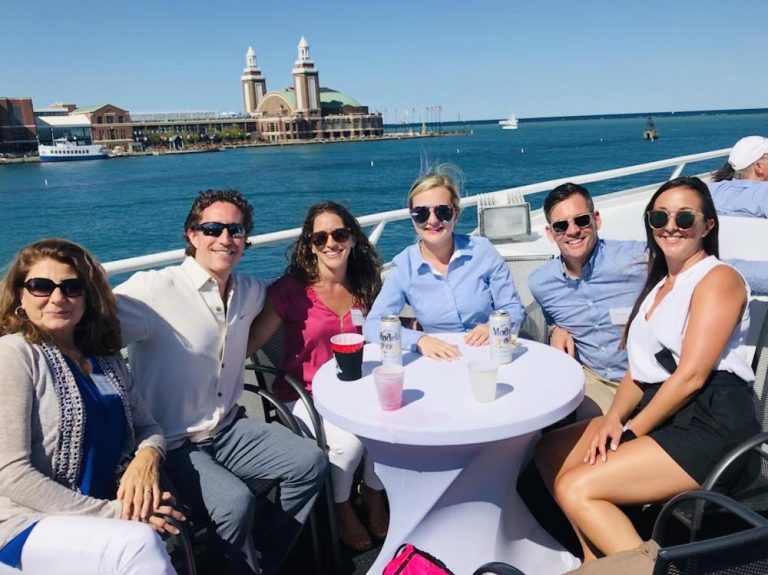 We just wanted to take a moment to thank everyone who was able to attend our yacht outing! The weather held up and a great time was had by all.
As mentioned when we first got on board, the purpose of these events is for the best people in my network to meet one another and explore how they can serve as a resource for each other. A rising tide lifts all boats so hopefully many wonderful connections were made. If any were missed, please don't hesitate to ask and I will put you together.
To Mason Awtry, our sponsor, you are the best! Thank you so much for your support.
To those who were unable to attend, you were certainly missed. TAG hosts monthly lunches & breakfasts as well as quarterly events like the boat outing so let us know if you're interested in future opportunities to rub shoulders with the best and brightest Chicago has to offer.
Guest List:
Zak Dabbas, Co Founder, Punchkick
Rob Wilson, President, The Wilson Companies
Jay Rudman, CEO, TopStep Trader
Lucas Ward, CoFounder & CTO, Kin
Grant Gochnauer, Co Founder & CTO, Vodori
Dino Gane-Palmer, CEO, PreScouter
Patrick Anderson, CEO, OXbottling
Carter Kennedy, CEO, SoloInsight
Anders Norremo, CEO, ThirdPartyTrust
Donna Salvatore, Founder & CEO, Megalytics
Adam Hirsen, Co-Founder & CEO, UpShow
Rob Topping, Founder & Managing Member, Topping Capital
Michael Reddy, President, Digital Authority Partners
Page Ciesemier, Controller, Gage Hospitality Group
Mark Reitsma, Managing Director, Heartland Angels
Sean Harper, Co Founder, Kin
Mike Perich, CEO, Sewing Supplies Division of Bernina International
Percy Haley, Partner, Black Rhino Financial
Jake Dayan, CEO & Founder, Community Tax
Graham Peck, Venture Capital Investor, Chris Sugrue
Founder & CEO, The Crowd
Codrin Arsene, CEO, Digital Authority Partner
Dean Kaliakmanis, Sr VP, Acrisure
Joe Liberty, COO, Employee Benefits Consultants
Ben Fornell, CEO, Shurpa
Nicholas Piekoszewski, COO, OXbottling
Cindy Rudman, Owner, NoteWorthy Notes
Tim Martinez, CoFounder & CEO, MPAC Healthcare
Susan Chiaramonte, President, Educred Services
Dr. Dave Rominski, President, Doctor Referral Institute
Scott Nicholson, President, KO Business Solutions
Bill Kwit, Managing Partner, O'Malley & Kwit
Morrie Elstien, CEO, Morrie Connect
Mark Meyer, Owner, E&M Strategic Development
Dan Kuhn, CTO, Aginity
John Renaldi, CEO & CoFounder, Jiobit
Greg Vrablik, President & Owner, The Presidents Forum
Chris Carlton, President & Co Founder, Liquidus Marketing
Manny Flores, President & CEO, SomerCor
Atish Doshi, President & Founder, The Black Sheep
Todd Stukenberg, President & CEO, Illinois B.I.S.
Herb Washington, CIO, Aspire Chicago
Bob Ryan, Principal, Shields Meneley Partners
Mason Awtry, CEO, Rightsize Facility
Nick Charveron, Co Founder, Community Tax
Glenn Hafner, Managing Partner, HD Investment Group
Mike Dawson, Co Founder & COO, Shurpa
Peter Wokwicz, CIO/CEO, Various Entities
Misha Shah & Andy Sajnani, COO & CEO, Think Latitude
Ted Kanellakes, Executive Director, Chicago Medical Society
Tory Cosich, Managing Partner, ProvenIT
Charlie Graff, Founder, CrossTown Fitness
Ivan Vislavskiy, CoFounder & CEO, Comrade Web Agency
Chester Singleteary, Director, Loop Capital